Resetting Nikon D90 DSLR Camera
|
Nikon D90 is very physically identical to the Nikon D80, but with the advantages of smaller size and lighter compared to the Nikon D300. Being physically lighter and smaller influence the user in holding and operating the camera more comfortably. On the other side of the physical which is owned by the D90 feels far exceeds the comfort which is owned by Nikon D60. All were found in the Nikon D90 is something that is desired by the photographer.
Various elements have been subtly improved in the latest version of the D90, but the D90 has only one new feature, the three holes for the microphone, with little difference by shifting the location of the logo. All the function keys still in the same place and with the same functionality as well as its predecessor. On the back of the camera, some of the control buttons of the Nikon D90 is also slightly improved by the presence of an LCD monitor that is larger than the previous, but most of the controls are positioned very easily recognizable from its predecessor the camera.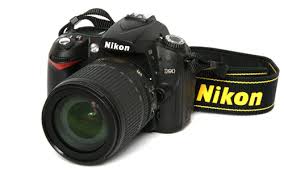 Image source: 
trustedreviews.com
Something seemed to change significantly is on the LCD screen clearly displayed, with the size of the adjusting needs, as well as various changes that accompany changes in the LCD screen, among others, the Live View button marked with the Lv. Then right underneath there is a wide range of new navigation buttons that can be seen as the Nikon D700 with the OK button in the middle. Locked by switching arrows that are below, and also there are 'key information' available on the D700. This button serves to raise the status of the display, and press twice to bring up a new menu on the screen.
For the the top deck there is nothing new, it's just a little arrangement of buttons that adjust the shape of the LCD layout. And a significant upgrade here is the existence of 18-105mm lens. Although the lens does not have the extra range 18-135mm owned by the D80, but here the change to take advantage of the powerful Vibration Reduction on Nikon Optical image stabilization.
Factory Reset:
To restoring Nikon D90 to its factory settings, just hold the [+/- Exposure Compensation] button and the [AF Mode] button down together, until the control panel turns off briefly while the camera resets itself to the factory default settings.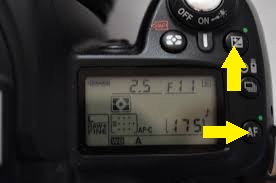 Read also "Resetting Nikon D40 To Factory Settings" and another user guides. Hopefully the article of Resetting Nikon D90 DSLR Camera useful for you.