Resetting Fujifilm X30 – 12 MP Digital Camera with 3.0-Inch LCD
|
Fujifilm renew its compact advanced in the form of the Fujifilm X30. This camera replaces the X20 that are older than one and a half years ago (January 6, 2013). At the core of the camera, was unchanged at 12 MP X-Trans sensor with a size of 2/3 ". The sensor size is still smaller than some of its competitors such as Sony RX100 (1 ") and Canon G1X (1.5" slightly larger than four thirds, smaller than the APS-C) but still better than the Canon Powershot G16, Nikon Coolpix P7800 and Panasonic LX7.
Although it looks like Fujifilm X-PRO series, but the picture quality is still below its class, and the lens can not be exchanged. Lens attached is already good and practical for a variety of photo objects, namely 28-113mm f / 2-2.8. Relatively large aperture and stabilizer in the lens makes it easy to take pictures in low light conditions. This lens is the same as that in the Fuji X20, but the difference is no ring on the lens that can be used to change the settings.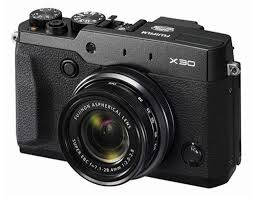 Image source: 
mirrorlessrumors.com
Do not expect the photo with a very blurry background despite the relatively large aperture lens, because the size of the image sensor is relatively small compared to the DSLR / mirrorless camera. Despite being in the class of compact cameras, but the X30 is less thin for bagged, its size is similar to his brother's mirrorless camera like the Fujifilm X100, Fujifilm XE1.
Factory Reset:
Press the [MENU/OK] button
Press the [</ dial left] button to highlight the tab
Press the [V/ dial down] button to highlight the "wrench" icon
Press the [>/ dial right] button to place the cursor in the setup menu.
Highlight "RESET" and press the [>/ dial right] button
When a confirmation dialog appears, select "OK" and then press [MENU/OK] button
Warning! This operation will cause the settings you made will be lost. Do not use this function unless you are certain that you want to do this. Read also "Resetting Fujifilm X100S 16 MP Digital Camera" and another user guides. Hopefully the article of Resetting Fujifilm X30 – 12 MP Digital Camera with 3.0-Inch LCD useful for you.
Reference: Fujifilm X30 manual