Resetting Fujifilm X100S 16 MP Digital Camera
|
In January 2012, Fujifilm announced the launch of a mirrorless camera, the Fujifilm X100s. This camera is the successor of the X100 and do some repairs and improvements of the previous generation. If only viewed from the outside, Fujifilm X100S did not experience much change compared to the X100. From the outside, its just a design improvements. In fact, the size and resolution of the LCD screen is mounted is still the same as previous models.
We will feel significant changes to the camera is equipped with a Hybrid Viewfinder feature is when using it in a photo shoot. With this technology, users can still take advantage of the optical viewfinder on the X100S is bright and clear but still can see the importance of display parameters electronically. This unique feature will be highly preferred that users are already accustomed to using a DSLR camera. Only, the hybrid viewfinder feature can not work in manual focus mode. In manual focus, the viewfinder will automatically work electronically.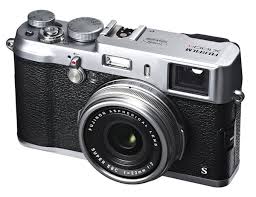 Image source: 
imaging-resource.com
The most important breakthrough of this new camera is located on the sensor and the processor changes. By using X-TransII CMOS sensor APS-C sized and EXRII generation processor which is a derivative of the X-Pro1, the image resolution increased to 16.3 megapixels. The sensitivity of the sensor can be driven up in ISO 25600.
The replacement of sensors and processors are proven to improve the performance of Fujifilm X100S when used in low light conditions. When used to photograph the interior with light potluck, at ISO 800 noise is almost not appear. When the sensitivity is raised to ISO 1600, the noise that arises is still quite minimal. At ISO 3200, noise appears not interfere. The sharpness of the picture is still fairly good. The most impressive, because it uses a new processor makes the autofocus speed of X100S increased rapidly compared to its predecessor. When used indoors in a fairly low contrast situations, autofocus still works quite well. With performance like this, fujifilm X100S more enjoyable when used for a candid photograph.
Factory Reset:
Press the [MENU/OK] button
Press the [</ dial left] button to highlight the tab
Press the [V/ dial down] button to highlight the "SETUP", which is represented by a wrench icon
Press the [>/ dial right] button to place the cursor in the setup menu.
Highlight "RESET" and press the [>/ dial right] button
When a confirmation dialog appears, select "OK" and then press [MENU/OK] button
Warning! This operation returns all settings you've made in the menus to their factory-set condition. Be sure that you want to do this. Read also "Resetting Nikon COOLPIX S9700 16.0 MP Wi-Fi Digital Camera" and another user guides. Hopefully the article of Resetting Fujifilm X100S 16 MP Digital Camera useful for you.