Honda Accord Oil Life – Meaning & Resetting
|
Last Updated on June 20, 2022 by Nick
Hey guys! Back again to another weekend project. Today I'm going to show you something easy simple and fixable. I'm going to show you how to do the oil life reset on your Honda Accord.
Within your 2008 Honda Accord, typically, it'll have kind of an oil maintenance minder for you in terms of letting you know to change your oil at every 5,000-mile interval. And you'll notice kind of a percentage sign, and that pops up sometimes; it tells you your oil life. So let's get rolling on this.
What is the Honda Oil Life System?
It is part of the Maintenance Minder system, which tells you when it is time for an oil change. Honda developed Maintenance Minder in 2006 to assist drivers in keeping track of regularly scheduled appointments. The technology analyzes how your Honda is being driven and calculates when it is time for a scheduled maintenance appointment.
It is imperative to reset the system on the instrument panel after each oil change as instructed in the owner's guide. Missing a reset after changing the oil will result in a premature message to change the oil. To help prevent damage to the powertrain summers, you must complete an oil change within 14 days or 500 miles (whichever comes first) after the oil change required message appears in the message center.
How To Reset Oil Life In Honda Accord (2008-2017)
Time needed: 3 minutes.
All right so after the oil change, we need to reset the oil life. On older models of the Honda Accord (2008, 2009, 2010, 2011, 2012, 2013, 2014, 2015, 2016, 2017), you can reset the oil life using the knob on the instrument cluster. So let's do it.
Put on the ignition

If your vehicle has an ignition button, press the POWER button twice without stepping on the brake pedal

Go to the OIL LIFE screen

So once we do that you're going to scroll to the Oil Life screen by pressing through the Select/Reset knob on the instrument cluster


Hold down the Select/Reset knob

Now you're going to hold the Select/Reset knob for 10 seconds and basically, it puts it into a kind of mode where you can reset it. And once you do it the oil life going to start blinking

Release and hold the Select/Reset knob again

Finally, once the oil life starts blinking what we're going to do is hit the knob for five seconds more and the oil life will reset to 100%
Resetting the Oil Life With Steering Button
The other way which is also very easy to reset the oil life is using the navigation buttons on the steering wheel. However, this method can only be used in the 2013, 2014, 2015, 2016, and 2017 model years. So let me teach you right now.
First, switch over the ignition to the on position
Next, scroll using the down button until we reach VEHICLE SETTINGS which should be at the bottom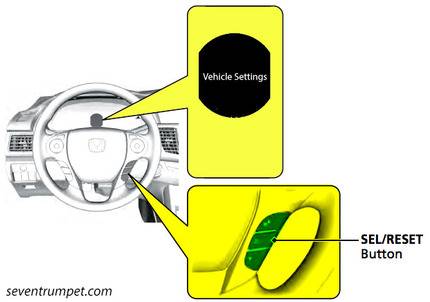 Then you're gonna push the SELECT button to enter
After that, scroll down again until you reach the MAINTENANCE RESET, and then press SELECT to enter
Finally, you select RESET to execute the oil life reset
For your info, this will apply specifically to the old Honda Accord. The new models have a little bit different but I'll try to get you a link up here.
What Affects the Oil's Lifespan?
Oil life is influenced by various variables, including temperature in the motor, load, distance traveled, time on the road, vehicle speed, and engine rpm. The Maintenance Minder system has anticipated an early degradation of oil additives if the engine maintenance light has been illuminated before the prescribed 5,000-mile oil change.
What are the issues with the Honda Accord's oil usage?
Some 2008-2013 Honda Accords were oil-guzzlers. This problem affected both 4-cylinder and V6 cars, regardless of mileage. The oil consumption was caused by a "systematic design flaw". Honda released 2 service advisories that said if a vehicle used more than 1 quart of oil per 1000 miles, they would break down and rebuild the engine to replace the piston rings. Some owners who didn't achieve this restriction were able to reduce oil consumption by changing the PCV valve on the engine's intake manifold.
FAQ – Honda Accord Engine Oil
What kind of oil does a Honda Accord use?
The 2.4L model uses SAE 0W-20 synthetic engine oil, while the 3.5L V6 needs SAE 5W-20, and you'll generally need to add roughly 4.5 quarts of oil after installing the new filter to bring it back up to correct levels.
What type of oil filter does Honda Accord use?
Regular canister oil filters are used in Honda Accords from the model year 2016 forward. It is possible to utilize the $5 STP Oil Filter S7317, available off-the-shelf, or the $9 STP Extended Life Oil Filter S7317XL.
When should I change my Honda Accord air filter?
As a general rule, while using a synthetic mix, you should replace the oil and the filter every 7,500 miles or every 12 months.
How much should an oil change cost?
This oil is sold everywhere. You may get it from reputable suppliers in an auto parts shop or online. As of this writing, the price of one oil bottle ranges from $3.46 to $21.52. It will cost between $53 and $155 for labor if you hire an automobile service expert or a mechanic to do the job for you.
Why is my Honda Accord check engine light on?
If your check engine light comes on, it means there is something wrong with your vehicle. You should take your car to an auto repair shop as soon as possible. They will diagnose what is causing the problem and fix it.
So that's all that I wrote for this post. This tutorial basically for the 2008 Honda Accord four-cylinder also works on the six-cylinder as well and also the other generations as well so. These instructions are based on the Honda Accord owner's manual. Thanks for joining me today and have a wonderful day.