The New Honda Accord Maintenance Light/Oil Life Reset Guide
|
Last Updated on June 20, 2022 by Nick
Hello everyone and welcome! I had a couple of people who sent me some messages and posted comments on resetting the engine oil life or maintenance light on the 2018 Honda Accord.
So today, I'm going to quickly show you how to reset A1 or whatever number or B number it indicates maintenance required for your new Honda Accord. You can do this if you do your own services or if your technician forgets to reset it. So let's hop over to it.
How To Reset Oil Life On Honda Accord (2018-2023)
Time needed: 3 minutes
All right, guys, we have a 2018 Honda Accord here, and we've performed the A1 service for the maintenance minder system. And what we're going to do now is reset or reinitialize it, so it's good until the next oil change. So this is how you can reset it:
Turn on your car without starting the engine

First, you'll want to make sure the car is in Park and you can do this in accessory mode by pressing the POWER button twice without stepping on the brake pedal

Press the HOME button to enter the main menu

The button is located on the steering wheel


Go to the ? MAINTENANCE

Roll the Left Selector Wheel to scroll through the menu and find the MAINTENANCE menu

Press the Left Selector Wheel

Press the wheel on the maintenance to enter the menu

Press the Selector Wheel again

Once you're on the remaining oil life screen, press the Selector Wheel to enter the reset mode

Select the maintenance item to reset or select All Due Items

Select the maintenance item that you have finished working on and then press the Wheel to reset the selected item
Accord Maintenance Light Reset With Touchscreen
This new Honda Accord has two types of reset, and for those of you who have whose car has equipped with a GPS system, this is where we are going to reset. So let's see how we get this done.
Turn on your car
Push the HOME button on the main display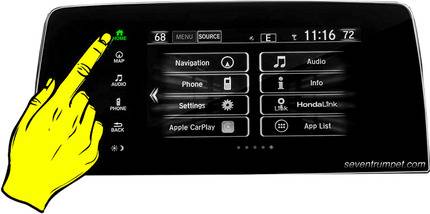 Then you're gonna go ahead and hit SETTINGS
Next, you're gonna come up with a bunch of menu items, so you're gonna go ahead and hit VEHICLE
After that go down to the bottom and select MAINTENANCE INFO
It'll come up with what's due and what it is which is always nice to know. So you're gonna go ahead to SELECT RESET ITEMS
Select the maintenance item that you have finished working on and then when you want to reset, you just hit reset and it will turn into a hundred percent
What is the Maintenance Light?
The all-new Honda Accord is equipped with a system that reads sensors throughout your vehicle to determine the optimal time to have it serviced. It could be an oil change or something more significant. An illuminated wrench will appear in your driver display, letting you know when attention is needed. A maintenance code will also appear alongside the wrench.
It'll be made out of the main code or the main code with a sub code. A is an oil change, while 0 would mean you also need to replace the oil filter, and depending on the accompanying sub-codes, you may need other maintenance. They range from one to seven.
So here's an explanation of what the maintenance minder codes mean. My Accord came up with A1. The A1 service is an oil change and tire rotation, so we performed those services before resetting it.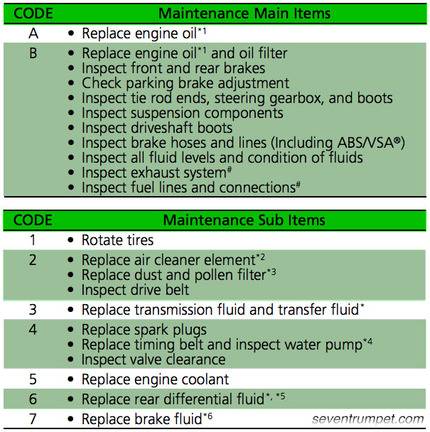 Your vehicle will also display your oil life if it reaches 15%. You'll need servicing soon; if it gets down to 0%, you're overdue for a change. The codes differ depending on which model you have. So always check your owner's manual.
Engine Oil Recommendations
The new Honda Accord's owner's manual recommends SAE 0w-20 oil. However, you may alternatively use SAE 5w-20 if you like. The only thing to keep in mind is that you cannot combine them, and you must empty the engine before applying a new kind of oil. Look for an API certification mark when purchasing oil for your car since this indicates that the oil has been certified for use in all Honda vehicles.
The two digits in an oil's weight are its viscosities in starting and operational temperature. 0W-20 oil has superior starting viscosity than 5W-20 oil (remember, smaller numbers are preferable). Substandard oils may decrease a car's life and cause early wear and tear. We recommend using oil with the lowest weight, even if it costs more.
FAQ – Honda Accord Maintenance
How much oil should I put in my Honda Accord?
The 1.5 L 4Cyl has an engine oil capacity of 3.4 quarts or 3.1 liters, whereas the 2.0L 4Cyl has a capacity of 4.6 quarts. Manufacturer specifications for the recommended oil and oil filter replacement quantity at each service interval show that this should be done as suggested.
When should you change your oil for Honda Accord?
Conventional oil requires an oil change every 3500 miles, whereas full synthetic requires an oil and filter change every 5500 to 7000 miles, depending on the driving style.
What is the torque for the oil drain plug?
The torque of the oil drain plug of the Honda Accord is 25 foot-pounds
So that's how you reset the maintenance light or oil life on the new Honda Accord (2018, 2019, 2020, 2021, 2022, 2023). You can also get these instructions in your manual book. Alright, thanks so much for reading, and let me know if you have any questions pretty easily. Until next time, cheers!