How To Reset Oil Life/Oil Change Light On Chevrolet Trax (2015-2022)
Last Updated on December 10, 2021 by Nick
Good morning man! Today I'm going to show you how to check your oil life monitor and reset the oil change light on a Chevrolet Trax. All that information will be located in your digital driver information center.
By the way, keeping your engine lubricated with fresh oil is one of the most important things you can do to extend your engine's life and keep your vehicle running well. It's a pretty straightforward job and very easily done at home. So let's get to work.
How To Reset Oil Life/Oil Change Light On Chevrolet Trax
For your info, this is going to be on a 2017 Chevrolet Trax here but it will be the same on several different years (2015, 2016, 2017, 2018, 2019, 2020, 2021, 2022 model years).
2015-2016 Chevrolet Trax
First, you're gonna turn the ignition on 
Then you're gonna want to hit the MENU button until it shows you the OIL LIFE right there on the display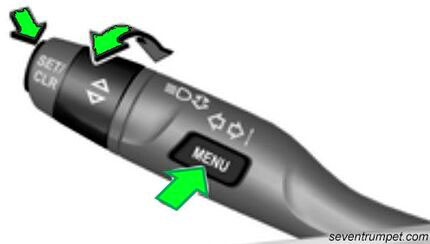 Now you're gonna press the SET/CLR button and hold it down till the car will beep and it will change to 100
2017-2022 Chevrolet Trax
Time needed: 3 minutes.
Here's how you reset oil life on the new Chevrolet Trax. So what you want to make sure you're clicking the Menu button when you go to the menu, and it's going to give you two options Trip and Vehicle there. So let's try to do it.
Turn on the ignition without starting the engine

If your vehicle has an ignition button, press the START button without stepping on any pedal

Go to the VEHICLE tab

Then you're going to press on this button that says MENU on the left stalk and it'll take it over to the VEHICLE tab


Scroll down to the OIL LIFE

Now you're going to roll the ▲▼ button till getting the OIL LIFE

Hold down the SET/CLR button

Next, you're going to press on the SET/CLR button and hold it so it's going to say are you sure that you want to reset 


Select YES

After that, you turn the ▲ button and it'll go from No to YES and press the SET/CLR button one more time and it's gonna reset your oil a and then also with that you can obviously check and see what your percentage is at
So that's pretty much it. That's how you reset the oil life on a Chevy Trax. Please share and check out my other content if you found this post informative. I got all kinds of posts on different makes and models. Thanks for checking it out, and have a wonderful day.