How To Reset Oil Life/Service Light On Hyundai Elantra (2016-2022)
|
Last Updated on September 21, 2021 by Nick
Ahoy, matey! Here we have a 2018 Hyundai Elantra, and I'm going to show you how to reset that oil life or service light. So if you have this service light over and don't know how to do it, it's super easy. It's not a hidden feature or anything. Anybody could do this.
So if you exceed the specified service interval, the Service Required light will appear on the dash screen. The service interval must be reset after performed the maintenance service on your vehicle. Follow the instructions below to reset the service minder on your Hyundai Elantra.
How To Reset Oil Life/Service Light On Hyundai Elantra
For your info, this operation work for the sixth and seventh generations of the Hyundai Elantra (2016, 2017, 2018, 2019, 2020, 2021, 2022 model years).
2016-2019 Hyundai Elantra
Time needed: 3 minutes.
Today we did a service on a 2019 Kia Optima. So we're going to go ahead and reset the oil life or service light in this car. So now all you need to do is:
Turn the key on

We're going to be starting the vehicle up. So if the vehicle has an ignition button, with your foot on the brake push the START button

Go to the 🔧 wrench icon

Press this ❏ button until you reach the 🔧 wrench icon


Make sure you're on the Service minder screen

Next, you'll see the Service Required but if you're not on that screen all you got to do is just go up or down does it matter until you reach this as you can see self-explanatory says hold ok to reset

Hold down the OK button

So now we just hold OK and it will reset 
How to Adjust Service Interval
Now if you want to change your say miles how much you want to wait until your next service, all you got to do is:
Go to the ⚙️ USER SETTINGS
Then go down and then you're gonna find SERVICE INTERVAL and click OK
At this point, you can set the distance and time interval to whatever you want
Once you're done just click the ❏ button and it should save it
2020-2022 Hyundai Elantra
Get in the car and turn it on
Then hit this ❏  button go to the ⚙️ USER SETTINGS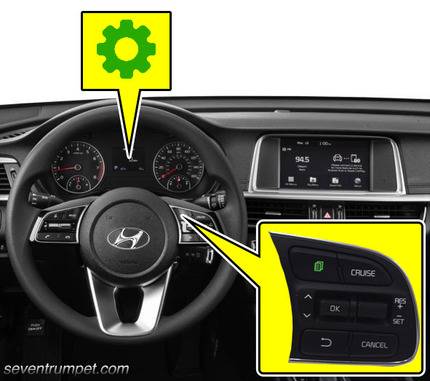 Next, scroll down to SERVICE INTERVAL and hit OK
At this menu, if you want to change the mileage you're gonna scroll down and take ADJUST INTERVAL but anyhow if you want to reset just select RESET
So there you have it. Super easy. Any questions, please put them in the comments below, and I'll get back to you as soon as possible. Share it to all fun bros, and stay tuned to our builds.