Oil Life Service Due Now Light Reset on Acura RL (2006-2011)
|
Oil Life Service Due Now Light Reset on Acura RL (2006-2011) – The Acura RL is a mid-size sedan manufactured by the Japanese brand Acura (Honda's luxury division). Marketed in Japan as the Honda Legend and manufactured in the city of Saitama, Japan. The alpha indicative of call "RL" is an abbreviation of "Refined Luxury" (in the free translation).
The first generation of the Acura RL was a renamed version of the third generation of the Honda Legend and was first introduced on the North American market in 1996 to replace the second generation of the Acura Legend. The second generation Acura was introduced in the US market in September 2004 as a 2005 model. This version of RL received an extensive transformation for the 2009 model and a new update for 2011. The third generation began to be produced in late 2012 as a 2013 model Acura RLX.
Oil Life Service Due Now Light Reset on Acura RL (2006-2011):
To turning off the Oil Life Maintenance Service Due Now Light on 2006 2007 2008 2009 2010 2011 Acura RL, conform to the following instructions:
Turn the ignition to (II) but don't start the engine.
Press the SEL/RESET button on the steering wheel repeatedly until "OIL LIFE" is displayed.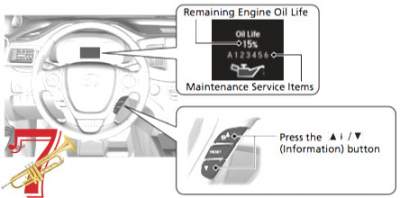 Press and hold the SEL/RESET button until the "OIL LIFE RESET" mode shown on the display.
Select RESET by pressing the INFO (▲/▼) button, then press the SEL/RESET button.
Turn the ignition off and then start the engine.
For more details please watch the following video:
This procedure should apply to the latest generation of the Acura RL (2006 2007 2008 2009 2010 2011 models). Hopefully, the article of 2016-2018 Acura ILX Oil Maintenance Service Due Light Reset useful for you. Good Luck!