How to Reset Oil Maintenance Due Light on 2018 Acura RLX
|
How to Reset Oil Maintenance Due Light on 2018 Acura RLX – The RLX is a luxury sedan, produced by Acura (Honda's luxury division) since 2013 to replace RL in the United States. Unveiled at the Los Angeles Show, the RLX introduced several innovations – compared with the RL, its predecessor – to decrease fuel consumption and power increase. Its 3.5L V6 24V engine has direct fuel injection which, combined with the i-VTEC system, variable valve timing, provides 310cv power and torque 37,4kgfm.
Even with 6-cylinder engine features low fuel consumption, due to the shutdown of up to 3 cylinders able to lower system request. In practice, the lower number of working cylinders is not much loss of mobility – under normal conditions – and provides an average of 10,2km / L, a considerable brand for a car of this size. In the safety field, the RLX features collision warning systems, warning of the sudden change of range and system of automatic activation of the brakes, when there is a risk of imminent collision.
How to Reset Oil Maintenance Due Light on 2018 Acura RLX:
To turning off the Maintenance Light on 2018 Acura RLX, conform to the following instructions:
Turn the ignition key to position "ON" without starting the engine, If your vehicle has a Smart key button, press the "Start" button twice without touching the brake pedal.
Press the Settings buttons located on the audio/information screen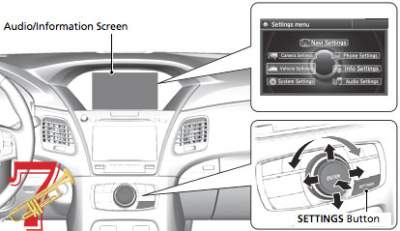 Select the "Vehicle Settings", and then press the Enter button
Scroll down and select "Maintenance Info"
Next, select "Reset" and then press the ENTER button
Confirm the question by select Reset again and press the Enter button
Turn the ignition off and then start the engine to verify the indicator has been reset
For more details please watch the following video:
This procedure should apply to the latest generation of the Acura RLX (2018 2019 models). Hopefully, the article of How to Reset Oil Maintenance Due Light on 2018 Acura RLX useful for you. Good Luck!