Mercedes Benz ML250 ML400 ML550 Service Due Light Reset
|
Mercedes Benz ML250 ML400 ML550 Service Due Light Reset – While the M-Class represented the first two years of a novelty and none of the competing manufacturers offering an equivalent product that dominated the M-class SUV market of its size completely. Only in the middle of 2000 moved BMW with the X5, could not reach the numbers of the M-Class until 2003 inclusive. But it was not just the manufacturer BMW, who saw potential in this class, but also other manufacturers.
With the introduction of the second-generation M-Class, Mercedes-Benz was able to point BMW and Volkswagen in 2006 and 2007, making the M-Class the market leader. Between 2008 and 2011, the new registration fell in line with the model cycle. In 2012 and 2013, the M-Class was again the leader in terms of new registrations in Germany.
Mercedes Benz ML250 ML400 ML550 Service Due Light Reset:
To reset Service Interval Warning Light on 2012 2013 2014 2015 Mercedes Benz ML250 ML400 ML550, conform to the following instructions:
Close all doors, windows, hood and trunk
Turn the ignition to the position 1 (If your vehicle has a Smart key button, press the "Start" button once without touching the brake pedal)
Press the system selection button repeatedly until the menu item TRIP or vehicle mileage is displayed in the multi-function display.
Press and hold the  (ACCEPT CALL) button for a second
While holding the  (ACCEPT CALL) button press and hold the OK button.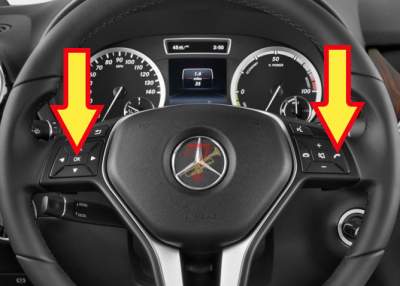 After several seconds the service menu should come up.
Scroll down and select the ASSYST PLUS
Select FULL SERVICE
Scroll down to select CONFIRM SERV
Select appropriate OIL GRADE being used
Select YES and confirm it
Turn the ignition off and then start the engine to verify the indicator has been reset.
For more details, please watch the following video:
This procedure should apply to the third generation of Mercedes Benz ML250 ML400 ML550 Service Due Light Reset (2012 2013 2014 2015 model years). Hopefully, the article by Mercedes Benz ML250 ML400 ML550 Service Due Light Reset can solve your problem. Good Luck! 😀