How to Reset Canon PowerShot SX520 HS to Its Factory Settings
|
Photography can not be separated from human life at this moment, wherever and whenever they always want to take pictures in order to capture a moment, especially now being a good trend selfie photo using a camera phone or a DSLR camera. Even so, the compact camera has not exhausted its heyday because these camera still has its own advantages. And this time one of the leading camera manufacturer, Canon has introduced their latest compact camera that has a high optical zoom, the Canon PowerShot SX520 HS.
As the next generation of previous series, Canon's latest camera is designed quite interesting because it has a design resembling SLR cameras, making it quite comfortable when used. The SX520 HS has a zoom range up to 42x optical zoom. Its zoom length is longer than the previous series. Canon SX520 HS is also equipped with a processor Digic 4 + which serves to assist image processing. In addition, the SX520 HS is supported by the BSI-CMOS sensor tips measuring 1 / 2.3 "with the equivalent of 24 – 1008mm and a maximum aperture of F3.4 – F6.0. The use of these sensors claimed to be able to capture images in low light conditions.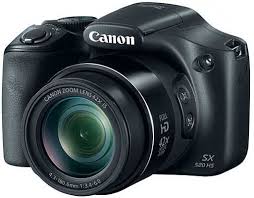 Image source: 
photographyblog.com
Canon SX520 HS is priced at around $ 399.99, has a variety of premium features options that can be used in exposure modes, such as Program AE, Shutter priority AE, Aperture priority AE, Manual, Auto Hybrid, Creative Shot, and several other features. In terms of video recording, the Canon SX520 HS is able to produce quality video Full HD resolution (1920 x 1080) with stereo sound quality. To help make the process of capturing images and videos, this camera has been equipped with TFT-LCD screen measuring 3 inches with a resolution of 461,000 dots reach. In addition, there are also slots MiniHDMI, which is used to connect the camera to the monitor screen.
Factory Reset:
To restore Canon PowerShot SX520 HS to Its Factory Settings, follow the procedure below:
Turn on your PowerShot and press the "Menu" button to open the menu in the viewfinder window.
Move the zoom lever to choose the "Tools" tab, which is represented by a wrench and hammer icon
Select [Reset All] and then press the [Func. Set] button
When the display ask you "Reset settings to default?" turn turn the dial to choose [OK] and then press the [Func. Set] button
Read also "Resetting Canon PowerShot G7 X Digital Camera" and another user guides. Hopefully the article of How to Reset Canon PowerShot SX520 HS to Its Factory Settings useful for you.
Reference: Canon PowerShot SX520 HS manual