2016-2018 Lexus GS350 Oil Maintenance Light Reset
|
2016-2018 Lexus GS350 Oil Maintenance Light Reset – Lexus GS refers to a car range of the upper middle class of the Japanese manufacturer Lexus. In August 2011, the fourth generation of the GS in the version 350 with four-wheel drive was presented in California. Full model change in Japan specification was officially announced on January 26, 2012, and gasoline specification GS 250 and GS 350 were started on the same day.
As for the engine, the 2GR-FSE type of V6 3.5L as same as the previous generation is installed in the GS350. Equipped with the 2WD car of GS350 and GS450h, 19-inch aluminum wheel dedicated designed to maximize driving performance, dedicated tuned suspension, mesh specification "spindle grille" and "F SPORT" which adopted exclusive interior and exterior Four kinds are prepared. In addition, AWD cars are also set for GS 350.
2016-2018 Lexus GS350 Oil Maintenance Light Reset:
To turning off the Oil Change Maintenance Required Light on 2016 2017 2018 2019 Lexus GS350, conform to the following instructions:
Turn the ignition key to position "ON" (II) without starting the engine, If your vehicle has a Smart key button, press the "Start" button twice without touching the brake pedal.
Select  on the multi-information display using the navigation button (located on the steering wheel)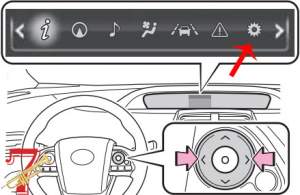 Scroll down and highlight VEHICLE SETTINGS  and then press Middle button to select it
Select "Scheduled Maintenance" or "Oil Maintenance"
When a confirmation dialog appears, select "YES" and then press Middle button to confirm
For more details, please watch the following video:
This procedure should apply to the latest generation of the Lexus GS350 (2016 2017 2018 2019 models). Hopefully, the article of 2016-2018 Lexus GS350 Oil Maintenance Light Reset useful for you. Good Luck!