Oil Maintenance Required Light Reset on 2018 Lexus GS 300
|
Oil Maintenance Required Light Reset on 2018 Lexus GS 300 – Lexus GS is one of Lexus's premium mid-sized models. It was first introduced in Japan in the fall of 1991, then in the USA and Europe in the spring of 1993. The GS is positioned between the Lexus IS and LS ranges. From 1991 to 2005, the car was sold in Japan as Toyota Aristo.  It was introduced in April 2005 with the models GS 300, (code: GRS190) with a 3.0-liter V6 engine (3GR-FSE) and gasoline direct injection, and GS 430, (code: UZS190) with the well-known 4, 3-liter V8.
According to a poll by ADAC in 2011, Lexus had the most satisfied customers in Germany. This satisfaction is also achieved through a comprehensive aftermarket service. In October 2010, Toyota launched two recalls for the second and third generation GS 300. In Germany, this involved 1,270 vehicles from the construction period from 28 September 2004 to 28 February 2006, during which the internal electrical connection of the fuel pump had to be replaced.
Oil Maintenance Required Light Reset on 2018 Lexus GS 300:
To turning off the Oil Change Maintenance Required Light on 2018 2019 Lexus GS 300, conform to the following instructions:
Turn the ignition key to position "ON" (II) without starting the engine, If your vehicle has a Smart key button, press the "Start" button twice without touching the brake pedal.
Select  on the multi-information display using the navigation button (located on the steering wheel)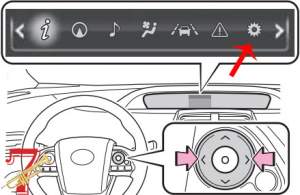 Scroll down and highlight VEHICLE SETTINGS  and then press Middle button to select it
Select "Scheduled Maintenance" or "Oil Maintenance"
When a confirmation dialog appears, select "YES" and then press Middle button to confirm
For more details, please watch the following video:
This procedure should apply to the latest generation of the Lexus GS 300 (2018 2019 models). Hopefully, the article of Oil Maintenance Required Light Reset on 2018 Lexus GS 300 useful for you. Good Luck!