2012-2015 Mercedes Benz C250 C63 AMG Service Due Light Reset
|
2012-2015 Mercedes Benz C250 C63 AMG Service Due Light Reset – The Mercedes-Benz 204 Series is a class of the mid-range C-Class. It was produced from March 2007 to June 2015 and replaced the 203 series built since March 2000. The production of the sedan ended in early May 2014. Since the beginning of February 2014, the successor to the Mercedes-Benz 205 series has been produced. In March 2014, the production of the T-model was discontinued. As the last model of this series, the coupe was built until June 2015.
After a facelift, the 204 series has been extensively redesigned since March 26, 2011. The headlights have been revised and the front bumper has been adapted to the E-Class, with a roundish lip under the radiator grille. The wide LED rods of the 212 series were also taken over. At the rear, the apron was only slightly revised and the taillights received beyond a new graphics.
2012-2015 Mercedes Benz C250 C63 AMG Service Due Light Reset:
To reset Service Interval Warning Light on 2012 2013 2014 2015 Mercedes Benz C250 C63 AMG, conform to the following instructions:
Close all doors, windows, hood and trunk
Turn the ignition to the position 1 (If your vehicle has a Smart key button, press the "Start" button once without touching the brake pedal)
Press the system selection button repeatedly until the Vehicle Mileage menu is displayed in the multi-function display.
Press and hold the  (ACCEPT CALL) button for a second
While holding the  (ACCEPT CALL) button press and hold the OK button.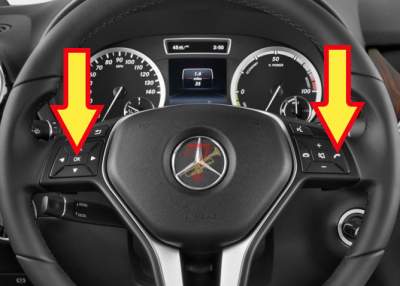 After several seconds the service menu should come up.
Scroll down and select the ASSYST PLUS
Select FULL SERVICE
Scroll down to select CONFIRM SERV
Select appropriate OIL GRADE being used
Select YES and confirm it
Turn the ignition off and then start the engine to verify the indicator has been reset.
For more details, please watch the following video:
This procedure should apply to the third generation of Mercedes Benz C250 C63 AMG (2012 2013 2014 2015 model years). Hopefully, the article by 2012-2015 Mercedes Benz C250 C63 AMG Service Due Light Reset can solve your problem. Good Luck! 😀