Tips & Tricks: TC Electronic Flashback X4
|
A few years ago TC Electronic debuted the Flashback Delay/Looper, a compact digital delay that not only packed a ton of delay flavors in a petite package but also incorporated the company's now famous TonePrint technology. Now, TC Electronic has chipped in with the Flashback X4 . It is a significantly expanded version of the company's acclaimed Flashback Delay stomp box. About four times the size and seemingly four times as powerful as the Flashback Delay pedal, but less than twice the price, the Flashback X4 promises to deliver exceptional value to delay junkies who want it all .
According to several Flashback X4 Delay & Looper reviewers, some users have praised it for the Range of delay effects; Three delays always available; An abundance of delays to keep you busy. Also, some users have complained it for the can't store loops or create your own TonePrint; Modulation not instantly adjustable in the w/Mod settings; takes up a lot of room.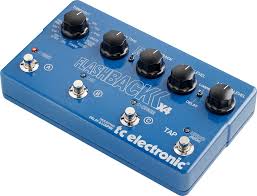 Image source: 
tcelectronic.com
Resetting Parameters:
To reset the parameters and parameter ranges assigned on TC Electronic Flashback X4, first connect an expression pedal to the "Exp Pedal" jack and power up the pedal. Then choose the respective preset and set the expression pedal to the maximum position. Finally, hold the footswitch for the preset.
Store A Preset:
To store a preset in TC Electronic Flashback X4, just simply hold the footswitch of the currently active (lit) preset slot for a few seconds.
How to set up an expression pedal
Watch this video to assigning expression pedal.
Hopefully the article of "Tips & Tricks: TC Electronic Flashback X4" was useful.
Reference: Flashback X4 support