Resetting Williams Rhapsody Console Digital Piano
|
When exploring this year's top of the line digital piano choices, the Williams Rhapsody digital piano is on the forefront of available choices. It is a state-of-the-art electronic piano that provides remarkable acoustic sound and feel in a console with an elegant design and rich wood finish that will look good wherever your place it in your home. It uses cutting edge technology to produce deep acoustic sounds along with a full range of rich octaves.
Another important aspect to consider with this piano is the size and setup of the piano. The Williams Rhapsody weights 38.1 lbs, which is drastically lighter than the average for all Upright Digital Piano Digital Pianos and Keyboards. Featuring 88 weighted, velocity-sensitive keys, it has 12 piano & keyboard sounds, split and layer sounds, a 2-track recorder allowing song recording and playback, USB/MIDI connection for computers, stereo/mono line outs, and sustain and soft pedals.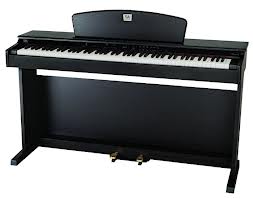 Image source:
guitarcenter.com
Factory Reset:
To restoring Williams Rhapsody to it's factory settings, just simply power ON while simultaneously holding the [REVERB] and [CHORUS] buttons until the LED Display light all segments and all LEDs on the device lit.
Warning! Performing this operations will clear all battery backed memory and restore all functions to factory defaults. Do not use this function unless you are certain that you want to do this. Hopefully the article of "Resetting Williams Rhapsody Console Digital Piano" can help you.
Reference: Williams Rhapsody manual