Resetting the Olympus PEN E-PL7 Micro Four Thirds camera
|
Not just a trend, selfie has become a phenomenon in the world of photography. The proof, as if the whole camera manufacturers are racing to release products that make the self-portrait activity becomes easier and more attractive. The latest news comes from Olympus, which has just announced the Olympus PEN E-PL7 next generation of E-PL6.
Retro design lines still visible on the Olympus PEN E-PL7. Even at first glance the design is no different with the Olympus PEN E-PL6. The most visible change will be found in the display sector. Although the screen is 3 inches, the E-PL7 now carries a flexible screen that can be folded down. This contrasts with a flexible screen of the Olympus PEN E-PL6 which can only be folded upwards. For the self-portrait photos more leverage, Olympus has added a selfie mode that automatically activates when the screen is folded down. In this mode, self image capture can be done simply by tapping the screen. Various style selfie photo can also be done via the settings option and the time interval selfie photo shoot just by touching the screen.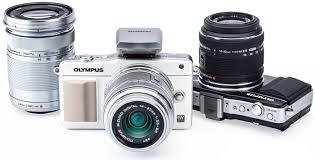 Image source: 
thenewcamera.com
Talking about the specifications, the Olympus PEN E-PL7 still quite identical to the E-PL6. This is evident from the use of MFT 16 megapixel sensor. However, there are some technologies owned by premium DSLM Olympus, the E-M10, which is also implanted into the E-PL7, such as 3-axis vibration damper features and 81 point autofocus system. It seems that the technological enhancements can be a recipe for selfie produce blur-free photos and stay focused, remember selfie photos more often by just using one hand.
Olympus PEN E-PL7 also be the first in the midfield DSLM Olympus, which have WiFi connectivity to connect to a smartphone or tablet. Moreover, the camera also has a variety of filters and scene modes are more varied as vintage filters, for photo effects like those of the Instagram application and effect of "Old Film Effect" to capture video with a retro effect.
Factory Reset:
Press [MENU] button
Select "Reset/Myset" in Shooting Menu 1
Highlight "Reset" and then press >
Select "Full" and press OK
Warning! This operation returns all settings except the time, date, and a few others. Be sure that you want to do this. Read also "How To Reset Leica M9 and Leica X1" and another user guides. Hopefully the article of Resetting the Olympus PEN E-PL7 Micro Four Thirds camera useful for you.
Reference: Olympus PEN E-PL7 manual