Resetting D5300 Nikon Digital Camera to Factory Default Condition
|
Nikon D5300 announced on October 17, 2013, as the next generation of the D5200 camera is offered at a price that is not so far from his predecessors. In the same month, but faster Nikon has also announced a new series of the Nikon D610. As the next generation camera, D5300 certainly has advantages and improvements in a variety of things that will certainly be better than the previous generation. Moreover, this Nikon D5300 was announced no more than a year since the D5200 was released. According to this leading camera manufacturer in the new series, Nikon has improved and only a small increase, but with the addition of WiFi and GPS are integrated directly into a camera is already makes it ​​as the first DSLR camera that carries that technology.
This sophisticated camera is intended for beginners or entry-level, and take the target users of the D3200 and D7100 cameras on APS-C lineup. D5300 offers a 24 megapixel camera with a resolution equivalent to a camera in its class, with LCD being behind as usual, but more clearly with 3.2 inch width and can be articulated. Both visually and ergonomically D5300 camera is the closest clone of its predecessor, but with a more solid camera body. 24-megapixel sensor does not have a Anti-Aliasing filter or AA filters, which filter serves to reduce the moire effect. However, with the increasing resolution with higher density moire effect can be ignored, with the loss of these filter, Nikon hopes the resulting image sharpness will be maximal.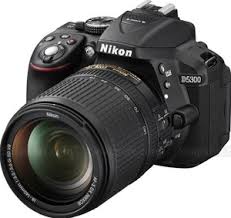 Image source: 
snapsort.com
In addition to offering a sharp image results, the Nikon D5300 also provide a more attractive offer, the video mode is enhanced to be able to record video with a resolution of full HD 1080 / 60p. This will be more attractive with 3.2 inch LCD is bigger than before with 1.04 million dots, indicating that the D5300 is very attractive for the videographer and photographer. Even more interesting is the battery life is longer. According to figures released CIPA Nikon D5300 offers a battery life up to 600 shots this means more durable when compared to the D5200 that only 500 shots only (without using WiFi and GPS features).
Factory Reset:
To restoring Nikon D5300 to its factory settings, just hold down the [Menu button] button and the [Information button] button together, until the control panel turns off briefly while the camera resets itself to the factory default settings.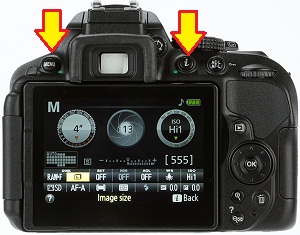 This procedure also applies to the Nikon D5100 and D5200 units. Read also "How To Reset Nikon D5000 Digital SLR" and another user guides. Hopefully the article of Resetting D5300 Nikon Digital Camera to Factory Default Condition useful for you.