Reset the VirtualDJ Controller's Mapping to Factory Default Condition
|
Last Updated on June 20, 2022 by Nick
This is an application that DJs use when they want to use a computer to play their music. Atomix Productions began distributing DJ mixing software in 2006, and today they sell four different DJ software projects: VirtualDJ Pro, VirtualDJ Basic, VirtualDJ OEM and VirtualDJ Home editions. But Virtual DJ sometimes gets a bad press. Maybe it's because the manufacturers and developers, began many many years ago making some seriously toy-like DJ software of the same name. Well, the first thing to say in any review of Virtual DJ is that Virtual DJ is, in fact – and has been for a long time – very good software. This DJ program allows you to add multiple track decks – as many as you can handle, for that matter – but only allows you to program three hot cues.  This DJ software's input and output features allow you to access your entire digital music file library instantly. It can detect musical keys for you so that all your mixes come out in tune, set your BPM counter automatically and interface with a number of different MIDI and HID controllers. And because no great DJ wants good work to go unnoticed, you can use this tech-savvy software to broadcast your mixes over the Internet and share the music with the world. Beginners and long-timers will enjoy Virtual DJ.
According to several Virtual DJ reviewers, some users have praised it for the great features and is compatible with many different controllers and operating systems; easy to use; insanely configurable; powerful. Also, some users have complained it for the be nice to see color-coded waveforms in this software.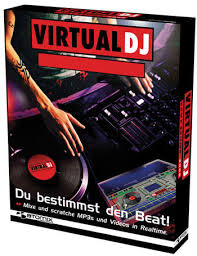 Image source:
alfin-pc.blogspot.com
Factory Reset:
If you have made custom changes to the mapping, I advise you to back it up first before reset your VirtualDJ. To back up your custom mapping file from a Windows computer, you should copy your custom mapping file to another device, that is located on the computer at following file location:
My Documents\VirtualDJ\Mappers
on Mac it is located in:
users/YOURNAME/Documents/VirtualDJ/Mappers or /users/YOURNAME/Library/VirtualDJ/Mappers
The only way to restore a your controller's mapping to the default factory settings by going to CONFIG > MAPPERS, choose the appropriate controller in the drop-down list and then click the Reset to factory settings button at the bottom-left of the Mappers dialogue box.
If you have installed a custom mapper and definition for a controller that already has native support, then the custom mapper may be conflicting with the native support, preventing it from working. Please delete it from VirtualDJ\Mappers and VirtualDJ\Devices. This also applies to the VirtualDJ Pro, VirtualDJ Basic, VirtualDJ OEM and VirtualDJ Home editions. Hopefully the article of "Reset the VirtualDJ Controller's Mapping to Factory Default Condition" can help you.
Reference: VirtualDJ support