Reset The TC Electronic NDR-1 Nova Drive to Factory Settings
|
This is an overdrive distortion coupled to an analog that is Controlled digitally. Featuring individual overdrive and distortion circuits that can be used separately or stacked together for virtually unlimited tonal flexibility, Nova Drive provides all the distorted and overdriven sounds guitarists could ever need. You can rout the two in series or parallel and in any order and then save all the settings to any of 18 patches. In the controls was tone, treble and bass and of course volume and gain level as usual. Connection with standard MIDI and more.
According to several TC Electronic NDR-1 Nova Drive reviewers, some users have praised it for the quietest Distortion pedal; The Overdrive side has a Mix control, that lets you blend the effect with the straight tone, as much or as little as you like. Also, some users have complained it for the Lack of a MIDI Thru port; Requires 12V power.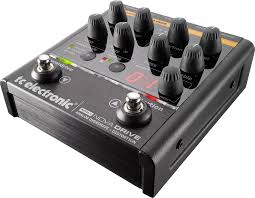 Image source:
tcelectronic.com
Factory Reset:
To restoring the factory settings your NDR-1 Nova Drive, just simply power on while simultaneously holding the PRESET button. The Factory Reset procedure is complete.
Warning! This procedure will return all of the settings to the values when the NDR-1 was shipped from the factory. Be sure that you want to do this. Hopefully the article of "Reset The TC Electronic NDR-1 Nova Drive to Factory Settings" was useful.
Reference: Nova Drive support