Reset Service Required Indicator on 2013-2015 Kia Sorento SUV
|
Reset Service Required Indicator on 2013-2015 Kia Sorento SUV – Kia is in the mission of improving the quality of its brand to a higher market. One of the first steps by making changes that are many and significant at the latest Kia Sorento. The changes are not only visible from the exterior appearance, but the interior of this SUV is made with the quality of so-called decent juxtaposed with competitors from European manufacturers such as Audi, VW, and Volvo.
The inside looks more simple with only one fairly large monitor in the middle surrounded by some keys and two horizontal panels underneath. The driver will be spoiled with two-tone leather seats and dashboard and a leather-wrapped gear lever. In addition, there are additional features such as the latest around view monitor and smart power tailgate makes the rear doors can be opened automatically when you approach the car with the keys in a pocket.
How to Reset Service Required Indicator on 2013-2015 Kia Sorento SUV:
To turning off the Service Warning Message on 2013 2014 2015 Kia Sorento SUV, conform to the following instructions:
When you turn on the engine and see "Service required" on the screen, press the MOVE button located at the steering wheel for more than 1 second.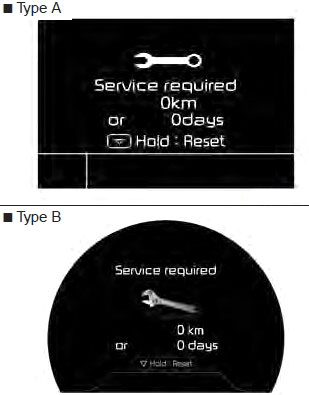 With this, the service interval will be reset to default settings. But you have to activate and set the service interval feature by accessing the INFORMATION menu.
To access the Information menu, press the MODE button (icon rectangle) on the steering wheel.
Highlight the USER SETTING menu.
Press the MOVE button to access the menu and use the directional keypad to turn the SERVICE INTERVAL mode on and set the applicable interval.
Turn the ignition off and then start the engine to verify the indicator has been reset.
This procedure should be work on the latest model of Kia Sorento (2013, 2014, 2015) models. Hopefully, the article of Reset Service Required Indicator on 2013-2015 Kia Sorento SUV useful for you. Good Luck!