Reset Roland F-20 Digital Piano to Factory Default Condition
|
The Roland company of Japan has made some great music products over the years including synthesizers, digital pianos, guitar products, computer music products, digital drums, digital accordions, and lots more. They are well known for their keyboard instruments and professionals from all over the world own and play them. The F-20 is Roland's latest digital piano and is aimed at the hobbyist/lower end of the market. Build quality is excellent throughout; in fact, the F-20 feels more pro than entry-level. The casing is very solid, yet the whole package is reasonably light for an 88-note piano.
According to several user reviews, they have praised it for the great piano sounds; Decent bread and butter keyboard sounds; Slick app integration; Professional Ivory-G action taken from the RD-300 Stage Piano; well built. Also, some users have complained it for the No DIN MIDI In/Out ports; Lacks dedicated sound selection buttons and sound editing controls; More colour options would be nice.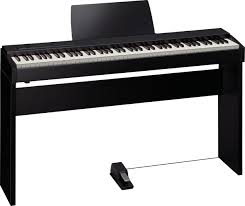 Image source:
rekkerd.org
Factory Reset:
To restoring the factory settings in the Roland F-20, first power on while simultaneously holding the KEY TOUCH button until the OTHER button and the SPLIT button blink. To start the Factory Reset operation, press the SPLIT button. Finally, when all the LEDs on the buttons are lit, please turn the power off and then on again. The Factory Reset procedure is complete.
Warning! This procedure will return all of the settings to the values when the GT-PRO was shipped from the factory. Be sure that you want to do this. Hopefully the article of "Reset Roland F-20 Digital Piano to Factory Default Condition" can help you.
Factory Reset: Roland F-20 support