Reset a TC Electronic Vortex Flanger Stereo Flanger Pedal
|
Flanging is one of the most classic modulation effects, discovered by accident and clutivated by some of the best guitarists in rock history. TC Electronic now provides guitarists with a way to get a great Flanger, with the addition of preset downloadable artist's signature sounds called TonePrints. This TC Electronic Vortex Flanger Guitar Effects Pedal will take you from a classic flange sound to a 747 taking off! Speed, depth, feedback and delay-time controls take you though a wide range of flanging, from mild to jet engine extremes. The Vortex's feedback control is particularly unique, in that it allows you to dial in both positive and negative feedback, for totally different tone styles. Vortex Flanger is built with guitarists in mind; so it features a small footprint, easy-access battery hatch and is built with the highest-grade components. Vortex Flanger has a true bypass design, and features analog-dry-through.
According to several Vortex Flanger reviewers, some users have praised it for the Range of adjustment; Unusual tape setting sounds; tone is beautiful and with the tone print you can make even more outstanding preset tones. Also, some users have complained it for a slight volume drop when the pedal is engaged.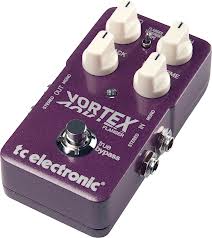 Image source:
tcelectronic.com
Factory Reset:
The only way to restoring the factory settings in your Vortex Flanger, you should uploading the factory TonePrint to the pedal. It is called the "Vortex Default" and can be downloaded via the TonePrint app or from the website. Please click HERE to downloading the factory TonePrint from TC-Electronics website.
Hopefully the article of "Reset a TC Electronic Vortex Flanger Stereo Flanger Pedal" was useful.