Reset a Roland Lucina AX-09 Shoulder Synthesizer
|
The keytar is making a comeback in both ironic and un-ironic contexts. One thing's for sure, this is a unique looking keyboard. It's space age and toy-like but professional at the same time, with a good measure of home keyboard feel thrown in too. This amazing 37-key synth lets you play expressively, even when you attach a strap and play it on the move. Build-quality is similar to its more expensive brother (though still pretty plasticky) and the off-white case looks a little uninspiring. However, for a little more outlay, there is a black version available that looks more serious. The Lucina AX-09 can be run on mains or battery power and has plenty onboard in terms of sounds and features.
According to several user reviews, they have praised a Roland Lucina AX-09 for the Compact and easy to use; A good range of usable sounds onboard; USB audio file playback; Cool look and compact size; Many impressive sound presets. Also, some users have complained it for the limited editing; Mod bar gets in the way of the ribbon controller; Black version costs more; Could use more synth sounds.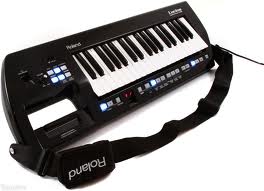 Image source: 
gearnuts.com
Factory Reset:
To restoring the factory settings in the Roland Lucina AX-09, first power on while simultaneously holding the FAVORITE [A], [B], and WRITE buttons. When the display appears "UtL ", press the TONE [5] button. When the display appears "FCt", press the WRITE button to start the Factory Reset operation. Finally, When the display indicates "DnE ," turn the Lucina AX-09's power off, then on again.
Warning! This procedure will erase all settings you've modified since purchasing the Lucina AX-09, including the tone settings you've stored in FAVORITES. So be sure to back up any information you wish to keep. Hopefully the article of "Reset a Roland Lucina AX-09 Shoulder Synthesizer" can help you.
Reference: Roland Lucina AX-09 manual