Reset a Roland CD-2u SD/CD Portable Digital Recorder
|
Roland is pleased to introduce the CD-2u SD/CD Recorder. This is a battery-powerable standalone recorder that offers SD card storage and an integrated CD burner. The CD-2u sports a high-quality onboard stereo mic that gives you simple, "point-and-capture" recording direct to CD-R/RW or an SD card. The CD-2u features XLR, 1/4″, and RCA inputs for connecting other mics and equipment, as well as phantom power, built-in speakers, and even a phono equalizer.
Other features include a tuner and metronome plus the option to adjust the playback speed and isolate vocals and instruments. Compact and ready to travel, the CD-2u is ideal for mobile audio recording, learning music and languages, and much more. For effortless recording to today's popular media, the compact and affordable Roland CD-2u is a no-brainer.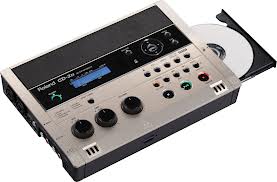 Image source:
rolandus.com
Factory Reset:
To restoring a Roland CD-2u to it's factory settings, first press the [MENU] button, select "Factory Reset?" entry by using [<] [>] (LEFT/RIGHT) buttons and then Press the [ENTER] button to confirm. Finally, to execute the factory reset, press the [ENTER] button again. The Factory Reset procedure is complete.
Warning! This operation will return all of the RMP-12's settings to their factory-set condition. Be sure that you want to do this. This procedure also applies to the Roland SD-2u unit. Hopefully the article of "Reset a Roland CD-2u SD/CD Portable Digital Recorder" can help you.
Reference: Roland CD-2u manual