Reset a Clavia Nord Modular G2 Keyboard
|
The Clavia Nord Modular series is a line of synthesizers produced by Clavia, a Swedish digital synthesizer manufacturer. Clavia introduced the first generation in 1998. The series was discontinued in 2004 upon the release of the next generation Nord Modular G2 series. The Clavia Nord Modular G2 is a small synth that specializes in all sorts of modular synth sounds.  It has a ton of parameters and options and is quite versatile in what it is able to do. It is an updated and more powerful version of the original Modular, with greater polyphony but most of the sounds are in monophonic form, which can be changed depending on the patch. The G2 adds some significant enhancements to both the programming and the playability. The control surface is now a three-octave keyboard with the mod wheel, pitch stick and led-illuminated continuous knobs borrowed from the Nord Lead 3. The keyboard is rather small in size as it ranges just about three octaves. G2 series was discontinued in 2009.
According to several Nord Modular G2 reviewers, some users have praised it for the great new modules, including DSP effects, acoustic modelling and MIDI Out; Combines the interface and programming potential of a software synth with the portability and performance of a hardware instrument; More memory locations; can store complete multitimbral setups. Also, some users have complained it for the Limited polyphony a frequent problem in many patches — that forthcoming voice expansion might be necessary if polyphony is an important purchase factor; Doesn't import patches from the original Nord Modular.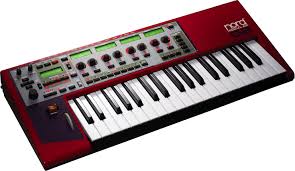 Image source:
en.audiofanzine.com
Factory Reset:
The only way to restoring a Nord Modular G2 to its Factory content by using the Nord Sound Manager and downloading a Restore file. The Restore files are named as Nord MODEL Factory Restore vXX revY. Please click HERE to downloading the Nord Modular G2 Factory Restore file from the Nord website.
To start restoring the Nord Modular G2, first you should connect your Nord Modular G2 to the computer and launch the Nord Sound Manager. Then, click on the Restore icon in the Nord Sound Manager toolbar and a file browser will appear. Next, locate the downloaded file, select it and click Open. When a message a appears, click Restore to start initialization of the program.
Warning! When you execute this "Factory Reset" procedure, the all the content in the Nord instrument will be irrevocably replaced by the content from the Restore file. Do not turn off the Nord instrument or disconnect the USB connection while restoring is in progress. Do not use this function unless you are certain that you want to do this. Hopefully the article of "Reset a Clavia Nord Modular G2 Keyboard" can help you.
Reference: Nord support