Reset a CANON PowerShot ELPH 115 IS 16.0-Megapixel Digital Camera
|
You're looking for a quality compact camera at a price that is not too expensive? you should consider the Canon PowerShot Elph 115 IS, a compact camera for $ 169.99 is equipped with features that are captivating. Canon PowerShot ELPH 115 IS was deliberately launched by Canon to target the middle class. This camera is not equipped with wireless capabilities, but it is powered by a DIGIC 4 processor, 16-megapixel sensor and 8x optical zoom. In it are six modes of stabilization to reduce blur and can be used to record HD video.
This camera has an 8x optical zoom capability that is equivalent to a focal length of 28-224mm. As for the biggest opening aperture which is owned by Canon PowerShot ELPH 115 IS is f / 3.2 at wide angle and f / 6.9 at telephoto. This camera has a 2.7 inch LCD display and is also equipped with ISO 100-1600. 115 IS ELPH is equipped with the Eco Mode for energy savings, because it can extend the battery life. This compact camera is available in pink, black, blue and silver.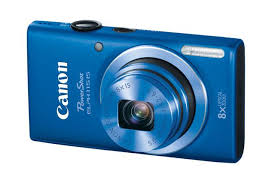 Image source: 
ubergizmo.com
Factory Reset:
To restoring Canon Elph 115 IS  to it's factory settings, conform to the following instructions:
Press [MENU] button
Move the zoom lever to choose the "wrench and hammer icon"
Select [Reset All] and then press the [Func. Set] button
A "Reset Settings to Default?" message appears. Highlight "OK" using the directional buttons and then press [Func.Set] to select it and restore your camera's factory settings.
Read also "Resetting Canon PowerShot A2500 16.0Megapixel Digital Camera" and another user guides. Hopefully the article of Reset a CANON PowerShot ELPH 115 IS 16.0-Megapixel Digital Camera useful for you.
Reference: CANON PowerShot ELPH 115 IS manual