Performing a Global Reset in Yamaha Clavinova CGP-1000 Digital Grand Piano
|
The Yamaha CGP1000 Grand Clavinova is a gorgeous acoustic/digital hybrid piano that has 88 keys with 3 pedals. The Yamaha CGP-1000 has a maximum polyphony of 128, which is the average for all Grand Digital Piano Digital Pianos and Keyboards. The piano can generate 1,070 sounds, which is far more than the average for all Grand Digital Piano Digital Pianos and Keyboards. In addition to the 1,070 sounds the Yamaha CGP-1000 can produce 408 rhythms, which is 308 more than the average for all Digital Pianos and Keyboards. The CGP1000 is a sophisticated digital piano; however the fallboard design lets you completely hide the controls – making it look exactly like an acoustic piano!
According to several user reviews, they have praised a Yamaha Clavinova CGP-1000 for the looks just like a real piano; Hides the electronics quite well. Also, some users have complained it for the sound was not impressive; Doesn't sound very clear or warm; If the piano is turned on, you can see the electronics through the cracks as you flip the lid for the first time (remember you can flip the lid twice); The lid doesn't seem to close or open comfortably, there's no click to let you know that it's closed, or it is open.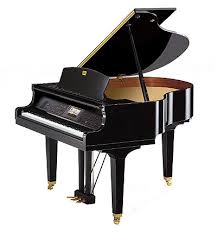 Image source:
achamilton.co.uk
Factory Reset:
To restoring the factory reset in Yamaha CGP-1000, just simply power on while simultaneously holding the C7 key (right-most key on the keyboard).
Warning! This operation deletes all your original data for the respective item (MIDI SETUP, USER EFFECT, MUSIC FINDER, and FILES & FOLDERS). Before you perform this operation, check whether there is any data you want to keep. Hopefully the article of "Performing a Global Reset in Yamaha Clavinova CGP-1000 Digital Grand Piano" can help you.
Reference: Yamaha CGP-1000 manual