Performing a Global Reset in Dave Smith Instruments Tetra
|
Dave Smith is a synth design legend. He designed the Prophet 5, 10, T8, Pro One, and VS under the Sequential Circuits name and also changed the way we all make music forever with his huge contribution to the invention of MIDI itself. The Tetra follows as the souped-up successor to the Mopho monosynth that wowed us last year. The Tetra is a bluish-gray compact module made out of rugged metal and fitted in the same housing as the Mopho. The Tetra features eight incremental encoders (pitch, attack, decay/release, select + four freely assignable encoders) as well as three potentiometers (volume, cutoff, resonance).
According to several user reviews, they have praised Dave Smith Instruments Tetra for the great sounds; It's small and neat, but can be edited fully (if slowly) from its own panel; You can cascade multiple units to create up to 16‑voice polysynths; It's truly multitimbral, with independent outputs for each voice; It's great value for money. Also, some users have complained it for the arpeggiator is limited; You need a Prophet 08 or software editor to program it quickly and intuitively; There's no on/off switch.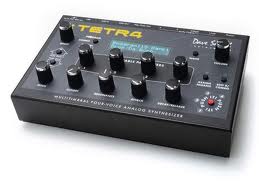 Image source:
audiofanzine.com
Factory Reset:
Hold down the [MODE] switch (Program/Combo/Global) until the GLOBAL LED lights.
Scroll to select "Reset Globals"
press [WRITE] button to execute the function.
Warning! This operations will return the global parameters to their factory defaults. Do not use this function unless you are certain that you want to do this. Hopefully the article of "Performing a Global Reset in Dave Smith Instruments Tetra" can help you.
Reference: Dave Smith Instruments Tetra manual