Nord Stage 2 Factory Reset
|
Nord's original Stage launched in 2005 and became a hit with live performers and studio bods with its great sounding organ, piano, electric piano and synth sections, coupled with versatile effects and controller functions, in a portable and easy to use package. Representing a stunning new take on the famous Stage series, the Nord Stage 2 is the latest version of Clavia Nord flagship instrument line. This is loaded with Nord Sample Library-compatibility, the B3 and transistor organ engine from the C2, MIDI over USB and more memory for your favorite sounds. All in an amazingly user friendly interface where all vital functions are only button away! Three models are available: the HA88 and 76-note HA76, which share the same weighted hammer-action keyboard, and the 73-note SW73, which has a semi-weighted, organ-profile keyboard.
According to several Nord Stage 2 reviewers, some users have praised it for much improved synth section with arpeggiator and dedicated LFO; The acoustic pianos are excellent, as are many of the electric pianos, clavinets and harpsichords; The organ models and their related effects are superb; User sample upload and Nord Sound Library access. Also, some users have complained it for the voicing and effects architecture is restrictive if you need to step beyond basic multitimbral setups; not cheap, and making the triple pedal an expensive extra is rather naughty.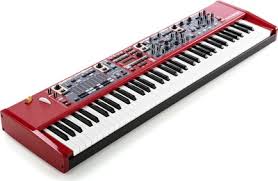 Image source:
thomann.de
Factory Reset:
The only way to restoring a Nord Stage 2 to its Factory content by using the Nord Sound Manager and downloading a Restore file. The Restore files are named as Nord MODEL Factory Restore vXX revY. Please click HERE to downloading the Nord Stage 2 Factory Restore file from the Nord website.
To start restoring the Nord Piano 2, first you should connect your Nord Stage 2 to the computer and launch the Nord Sound Manager. Then, click on the Restore icon in the Nord Sound Manager toolbar and a file browser will appear. Next, locate the downloaded file, select it and click Open. When a message a appears, click Restore to start initialization of the program.
Warning! When you execute this "Factory Reset" procedure, the all the content in the Nord instrument will be irrevocably replaced by the content from the Restore file. Do not turn off the Nord instrument or disconnect the USB connection while restoring is in progress. Be sure that you want to do this. Hopefully the article of "Nord Stage 2 Factory Reset" can help you.
Reference: Nord support