Nissan Sentra: How To Open Gas Tank Door (2013-2021)
Last Updated on June 1, 2021 by Nick
Nissan Sentra: How To Open Gas Tank Door (2013-2021) – You're probably here because you can't figure out how to get in this little door to put gas in it. Maybe you got to rent a car, just got it, and can't open the gas tank door in this Nissan Sentra.
So today, we'll quickly show you where the gas tank release lever and how to open up the gas tank so you can get gas and put gas in your car.
How To Open Gas Tank On Nissan Sentra
The first thing we want to do is go around to the driver's seat and look down to the left-hand side. You will get that a little bit lower in there's you'll see there are two levers for the hood and then there's one for the gas tank door. Just pull it up, and it will open up the gas tanks where you can refill the gas.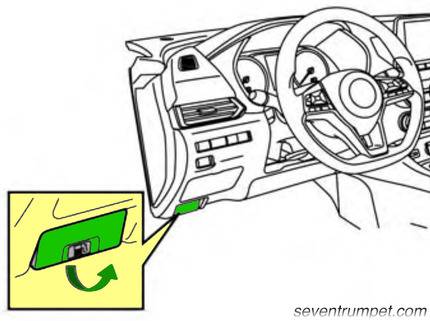 That's how to open up the gas tank on the Nissan Sentra. This method applies to the seventh and eighth generations of Nissan Sentra (2013, 2014, 2015, 2016, 2017, 2018, 2019, 2020, 2021 model years). Let me know if you have any questions, until next time catch you later.