Initialization Procedure: Korg PadKONTROL USB Midi Controller
|
The Korg padKONTROL adds another dimension beyond traditional keyboard control for incredibly expressive and versatile pad control. The most unique feature of the padKONTROL is the X-Y Section. You are able to run your finger up and down while playing a sound, and make that sound repeat super fast or slow, super loud or quiet, or adjust it to be at a set tempo and your sound will go with the tempo you set it at. You can set individual pads to do this, each of the 16 pads can be individually assigned a note number and MIDI channel, and you can choose from eight different dynamic curves as well as either MIDI or USB output for each drum pad. With the Pad Kontrol, Korg have done some out of the beatbox thinking and come up with a device with lots of creative potential.
According to several user reviews of Korg PadKONTROL USB Midi Controller, some users have praised it for the touch pads are Quality; easy to install; and plain fun to use; Good software bundle. But some users also have complained for the Not pressure-sensitive; Fewer knobs than the competition.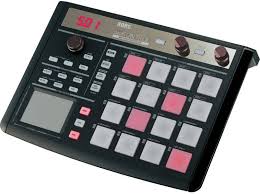 Image sorce:
mydukkan.com
Factory Reset:
To restoring the factory settings of Korg PadKONTROL, first hold the SCENE button and press the FIXED VELOCITY/PRELOAD button until the display indicate the preloaded scene number. Next, Use the encoder to select "ALL". Finally, Press the SETTING/ENTER button, and the display will blink "LOD" and loading will begin. The Factory Reset procedure is complete.
Warning! Execute this procedur will return all of the settings of Korg padKONTROL to the factory settings. Be sure you want to erase the memory and return the Korg padKONTROL to its factory default state before continuing with this procedure. Hopefully the article of "Initialization Procedure: Korg PadKONTROL USB Midi Controller" was useful.
Reference: Korg PadKONTROL Manual