How to Reset Oil Maintenance Light on Lexus ES300h 2016-2018
|
How to Reset Oil Maintenance Light on Lexus ES300h 2016-2018 – The ES is a medium-large sedan, manufactured by Lexus, Toyota's luxury division, from 1989 to the present day. It has platform and engines based on the Toyota Camry, however, offers differentiated levels of finish, usually with several luxury pieces of equipment and embedded electronics. Its main focus is the American market, however, the company sells it in Europe and Asia, except in Japan, where the Lexus models are sold under the Toyota flag.
Although its vehicles have been imported into Brazil since 1990 when President Collor liberated the arrival of foreign vehicles to the country, only in 2012 did Lexus formalize its presence in the Brazilian market. Until then their vehicles could be serviced for maintenance and service at Toyota dealerships. The ES300h is a hybrid car equipped with a continuously variable transmission (CVT). It is currently in its 6th generation.
How to Reset Oil Maintenance Light on Lexus ES300h 2016-2018:
To turning off the Oil Change Maintenance Required Light on 2016 2017 2018 2019 Lexus ES300h, conform to the following instructions:
Turn the ignition key to position "ON" (II) without starting the engine, If your vehicle has a Smart key button, press the "Start" button twice without touching the brake pedal.
Select  on the multi-information display using the navigation button (located on the steering wheel)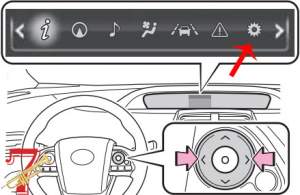 Scroll down and highlight VEHICLE SETTINGS  and then press Middle button to select it
Select "Scheduled Maintenance" or"Oil Maintenance"
When a confirmation dialog appears, select "YES" and then press Middle button to confirm
For more details, please watch the following video:
This procedure should apply to the latest generation of the Lexus ES300h (2016 2017 2018 2019 models). Hopefully, the article of How to Reset Oil Maintenance Light on Lexus ES300h 2016-2018 useful for you. Good Luck!