How to Reset Oil Maintenance Light on 2018 Lexus NX 300/300h
|
How to Reset Oil Maintenance Light on 2018 Lexus NX 300/300h – Lexus NX is a crossover SUV sold from the luxury car brand "Lexus" developed by Toyota Motor Corporation. Two types of hybrid model NX 300 h (with 2 AR-FXE engine) and Lexus' s first turbo model NX 200 t (with 8 AR – FTS type engine) are prepared, each of which can be selected as FF or AWD.
The NX 300h adopts the THS II with a reduction mechanism that combines a hybrid transmission incorporating a high torque motor into the 2AR-FXE type of the Atkinson cycle engine, and the JC 08 mode traveling fuel economy is 21.0 km / L (standard specification and "I Package" FF vehicles, "F SPORT" and "version L" FF cars and all grade 4WD cars achieved 19.8 km / L) fuel economy. The same manner as such as HS, because it has focused on eco-performance than performance, has been slow and the acceleration of 9.1 seconds from a standstill to 60 miles per hour, 7.2 seconds in the FF of NX200t, when compared to 7.0 seconds in the AWD.
How to Reset Oil Maintenance Light on 2018 Lexus NX 300/300h:
To turning off the Oil Change Maintenance Required Light on 2016 2017 2018 2019 Lexus NX 300/300h, conform to the following instructions:
Turn the ignition key to position "ON" (II) without starting the engine, If your vehicle has a Smart key button, press the "Start" button twice without touching the brake pedal.
Select  on the multi-information display using the navigation button (located on the steering wheel)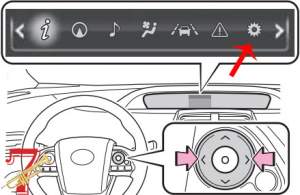 Scroll down and highlight VEHICLE SETTINGS  and then press Middle button to select it
Select "Scheduled Maintenance" or "Oil Maintenance"
When a confirmation dialog appears, select "YES" and then press Middle button to confirm
For more details, please watch the following video:
This procedure should apply to the latest generation of the Lexus NX 300/300h (2016 2017 2018 2019 models). Hopefully, the article of How to Reset Oil Maintenance Light on 2018 Lexus NX 300/300h useful for you. Good Luck!