How to Reset Maintenance Required Light on Lexus IS 200t
|
How to Reset Maintenance Required Light on Lexus IS 200t – The IS is a compact sedan (by North American standards) that occupies the position of entry model of the Lexus. It was the first of the brand's ride model to be made available with the diesel-powered engine (IS220d). The IS 300h 223CP E-CVT is a hybrid-electric car model that uses continuously variable transmission (CVT).
Gradually sales of the second generation weaken what is normal because this vehicle launched in 2005 had to be reworked, its competitors being redesigned over the years; this is the case of the sixth-generation BMW 3 series, which was released a year before its Japanese competitor. In 2016, Lexus unveils two different versions of the restyled IS at the Beijing Motor Show. The headlights adopt a new signature and LED optics, a bumper, a shield and rear lights revised with a rectangular exhaust outlet while the Sports version is adorned with a sportier shield to choose from.
How to Reset Maintenance Required Light on Lexus IS 200t:
To turn off the Oil Change Maintenance Required Light on 2016 2017 2018 2019 Lexus IS 200t, conform to the following instructions:
Turn the ignition key to position "ON" (II) without starting the engine, If your vehicle has a Smart key button, press the "Start" button twice without touching the brake pedal.
Select  on the multi-information display using the navigation button (located on the steering wheel)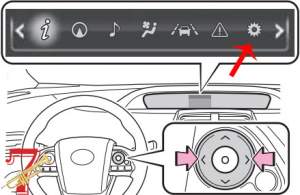 Scroll down and highlight VEHICLE SETTINGS  and then press Middle button to select it
Select "Scheduled Maintenance" or "Oil Maintenance"
When a confirmation dialog appears, select "YES" and then press Middle button to confirm
For more details, please watch the following video:
This procedure should apply to the latest generation of the Lexus IS 200t (2016 2017 2018 2019 models). Hopefully, the article of How to Reset Maintenance Required Light on Lexus IS 200t useful for you. Good Luck!