How To Reset Fujifilm FinePix S9200 16 MP Digital Camera
|
Digital camera with a super zoom lens capabilities still seems to be the mainstay of Fujifilm to captivate the lovers of photography. After the year 2013 ago, a Japanese company that issued some of his super-zoom cameras such as the Fujifilm FinePix HS50 EXR and FinePix HS25EXR Fujifilm, Fujifilm is now in the year 2014 also presents a similar camera with the release of its newest product called Fujifilm FinePix S9200.
Fujifilm FinePix S9200 is the latest prosumer camera from Fujifilm that was officially announced on 6 January 2014 ago. The key features in this latest fujifilm camera on the zoom optical sector which has the ability to be enlarged up to 50x. With such optical zoom, this camera seems reserved for photographers who like to target object with great distances but has the quality of the image is maintained.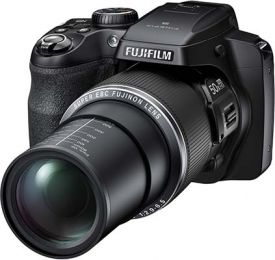 Image source: 
photographyblog.com
Talking about the sensor, the Fujifilm FinePix S9200 rely on CMOS sensor 1 / 2.3 "and support a resolution of 16 megapixels. He also considered capable of shooting well when relied in low light conditions, because in it had implanted ISO feature, by offering a level of sensitivity of ranging from 100 to 12800. In addition, so that the camera can work well, to capture fast moving objects, it is also equipped with a shutter speed with a speed of 8-1 / 1700 sec.
In the sector of video recording, the FinePix S9200 is a decent reliable to record every important moment. Where he has kualias full HD video with a resolution of 1920 x 1080 at 60i speed. If you want to lower the video quality, it can have the resolution of 1280 x 960 at 60p and a resolution of 640 x 480 at 30p. The latest super zoom camera from Fujifilm is also going to spread a 3-inch screen that has been equipped with a resolution of up to 460k dots, so to display images and video on the screen will look sharp and bright. It also has an electronic viewfinder, with coverage reaching 97% for the ease of users when they want to target object clearly.
Factory Reset:
Turn ON and Press the [MENU/OK] button
Press the [</ dial left] button to highlight the tab
Press the [V/ dial down] button to highlight the "SETUP", which is represented by a wrench icon
Press the [>/ dial right] button to place the cursor in the setup menu.
Highlight "RESET" and press the [>/ dial right] button
When a confirmation dialog appears, press the [V/ dial down] button to select "OK"
Press [MENU/OK] button
Read also "How To Reset Fujifilm FinePix S1 Super Zoom Bridge digital camera" and another user guides. Hopefully the article of How To Reset Fujifilm FinePix S9200 16 MP Digital Camera  useful for you.
Reference: Fujifilm FinePix S9200 manual