How to Reset Canon PowerShot SX710 HS / SX610 HS / SX530 HS
|
How to Reset Canon PowerShot SX710 HS / SX610 HS / SX530 HS – Canon re-introduce some of the most capable superzoom camera collection designed specifically for those who like to do the traveling. The launch event, which coincided with the convening Mega Bazaar 2015 and 2015 Jakarta Focus Photo & Digital Imaging, at the Jakarta Convention Center (JCC), four cameras capable superzoom Canon PowerShot SX series comes to be exhibited to the visitors of the exhibition. Fourth introduced Canon cameras including the Canon PowerShot SX410 IS, PowerShot SX530 HS, PowerShot SX610 HS and PowerShot SX710 HS, which each have a different zoom capability.
For the PowerShot SX710 HS series is equipped with a CMOS sensor size 1 / 2.3 "20 megapixel resolution. Canon PowerShot SX710 HS uses a lens capable of 30x optical zoom lens that has a focal length of 25mm-750mm. To facilitate capture images remotely, Canon camera series has been equipped with a Zoom Framing Assist Auto feature, which can enlarge the focus point automatically when the user is the target object distance.
As for the PowerShot SX610 HS series has the capability of up to 18x optical zoom lens with a focal length of 25mm-450mm. Also equipped with Auto Zoom, but the processing is simpler than the features of the PowerShot SX710HS in performing zooming ideal size automatically when the target object distance. For the PowerShot SX530 HS series is designed quite differently by Canon. This camera is equipped with the ability to zoom up to 50x optical zoom lens offers a focal length of 24mm-1200mm size.
How to Reset Canon PowerShot SX710 HS / SX610 HS / SX530 HS:
To restoring Canon PowerShot SX710 HS / SX610 HS / SX530 HS to it's factory settings, conform to the following instructions:
Press [MENU] button
Press the right arrow once to highlight the "Tools" tab
Select [Reset All] and then press the [Func. Set] button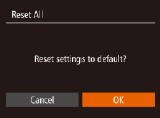 When the display ask you "Reset settings to default?" turn the dial to choose "OK" and then press the [Func. Set] button
Warning! Do not use this function unless you are certain that you want to do this. Hopefully the article of How to Reset Canon PowerShot SX710 HS / SX610 HS / SX530 HS can solve your problem. Good Luck! 😀