How To Reset A Korg KP3 To Factory Settings
|
Last Updated on April 10, 2014 by Nick
The Kaoss Pad is a touchpad MIDI controller, sampler, and effects processor for audio and musical instruments, made by Korg. The original model, released in 1999, and the KP3, which began shipping in October 2006. The Kaoss Pad's touchpad can be used to control its internal effects engine, which can be applied to a line-in signal or to samples recorded from the line-in.
The KP3 is a little larger than its immediate predecessor and much of the KP2's colour has been drained away, leaving behind a moody, dark-grey exterior lit by the austere red glow of display and buttons. The combination screen/touchpad interface and KAOSS technology make it intuitive, immediate, and just plain fun to use. Korg also has given the KP3 exclusive effects algorithms, synth sounds derived from Korg's RADIAS engine, better sampling, and computer connectivity. The Kaoss Pad 3 exudes an air of professionalism and seriousness that should in no way mislead you over the amount of fun it can provide. The KP3 can serve as a loop construction kit, effects processor, MIDI controller and even a performance instrument in its own right.
Korg KP3 has some key features like Realtime effects processing and sampling, Exclusive effects algorithms, RADIAS synth engine sounds, Improved sampling, Touchpad KAOSS interface, Pad lighting system, USB computer connectivity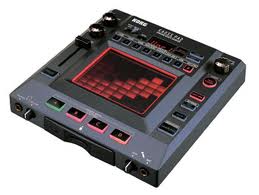 Image source: synthtopia.com
Reset A Korg KP3 To Factory Settings:
Press 1 and 2 and Sampling while powering on the KP3.
'PrLD' will appear in the LED.
C will be on, D will be flashing.
Press D.
urt will flash in the LED.
P.off will then appear in the LED.
Power off and on the KP3
This has reset all of the MIDI CC, which is about all you changed, so your mileage may vary. Hopefully the article of "How To Reset A Korg KP3 To Factory Settings" was useful.
Reference: