How To Reset A Boss GT-8 To Restoring the Factory Settings
|
Last Updated on April 10, 2014 by Nick
The GT-8 is patch-based and contains 340 patches stored in 85 banks – a pair of bank up/down switching pedals scroll through the banks, while an array of four more select the patches within the bank. Loaded with twin Cosm modeling engines, it brings unprecedented performance and tonal control to the stage and studio. And what's more, it is less expensive than the GT-6 was when it first appeared.
According a few user reviews, the boss gt 8 has some excess such as Great sounds, extreme programming versatility, many effects are effective and realistic, build solid with a metal casing. But unfortunately there is no USB socket and the display is a little difficult to see on stage.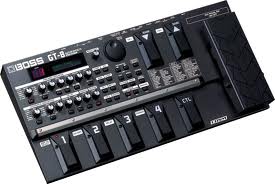 Image source: rolandus.com
Factory Reset:
To restoring the factory settings of Boss GT-8, power on while simultaneously holding the PREAMP/SPEAKER ON/OFF button and the PREAMP/SPEAKER TYPE VARIATION button. And when "FACTORY RESET" shows in the display, release both buttons, and then press "ENTER".
All user information will be lost. Not only can you return all of the settings to the values in effect when the GT-8 was shipped from the factory, you can also specify the range of settings to be reset. So be sure to back up any information you wish to keep. Hopefully the article of "How To Reset A Boss GT-8 To Restoring the Factory Settings" was useful.
Reference: http://www.roland.co.uk/assets/media/pdf/GT-8_OM.pdf