How Execute Reset in TC Helicon VoiceTone Harmony-M
|
Last Updated on June 20, 2022 by Nick
The Harmony-G XT is the successor to TC-Helicon's Harmony-G vocal effect and takes some features from the more upmarket VoiceLive 2. This is a vocal effects pedal that is designed for singers who are also keyboard players. It allows you to add vocal harmonies to your voice, depending on what chords you play with the keyboard, and what mode/preset you currently have selected. It has 20 total preset slots (10 banks, 2 a/b presets per bank), and master tone, humanize, fx, and harmony controls. Features 1/4″ TRS mic level I/O, as well as input for an optional footswitch so the VoiceTone can be placed on the keyboard for easier access. With intelligent arrangement of 2-harmony voices based on MIDI and voice input, Harmony-M is an essential tool for singing keyboardists.
According to several user reviews of TC Helicon VoiceTone Harmony-M, some dedicated footswitch for harmony switching; two different patches instantly footswitchable; harmonies generated from guitar; very durable. Also, some users have complained it for the setting the key manually requires a lot of footswitching activity; the input is an unbalanced.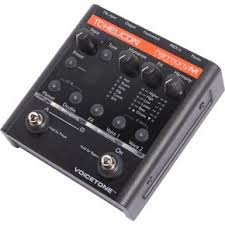 Image source:
musiciansfriend.com
Factory Settings
To restoring the factory settings in TC Helicon VoiceTone Harmony-M, you must insert the power connector to powering up while simultaneously holding the MANUAL and VOICE2 buttons for a few seconds. The Factory Reset procedure is complete.
You can also reset the MIDI options to default values without resetting any presets you've created. First holding the A/B and ON footswitches to enter MIDI Setup mode. Then hold the MANUAL, FX and VOICE2 buttons for 3 seconds, to reset the MIDI options. Exit to normal operation mode by pressing the ON footswitch.
Warning! When you execute "Factory Reset" the settings you made and edited presets will be lost. Do not use this function unless you are certain that you want to do this. Hopefully the article of "How Execute Reset in TC Helicon VoiceTone Harmony-M" was useful.
Reference: VoiceTone Harmony-M Manual