How do I reset the Roger Linn Design AdrenaLinn III?
|
Known for building the first programmable sample-based drum machine (the Linn Electronics LM-1 in 1979), Roger Linn has spent the past few decades creating all manner of wonderful noisemakers, including a collaboration with Akai that yielded the MPC60 and MPC3000. Now in its third generation, Roger Linn AdrenaLinn is one of the funkiest, and most powerful, programmable guitar processors out there – and yet it remains firmly underground. This beat-synced filter effects pedal adds to the legacy of the first two versions, giving you 40 enhanced amp models and some great signal-processing features such as stereo reverb and compresson.  Presets and drumbeats on the AdrenaLinn III have been increased to 200 of each, plus some great new sounds. The footswitches are assignable, and four new modulation effects have been added. AdrenaLinn III from Roger Linn Design is for guitar, keyboard or bass.
According to several user reviews of AdrenaLinn III, some users have praised it for the Drumbeats and easy time sync; Amazing amp models; Deep MIDI functionality and sync; Bulletproof chassis. Also, some users have complained it for the Cramped interface; Some effects can't be reordered.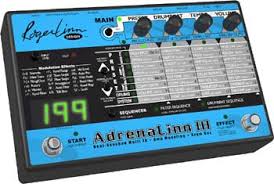 Image source:
thomann.de
Factory Reset:
To restoring the factory setting your AdrenaLinn III guitar multi fx, you should connect power while simultaneously holding the both foot switches until the display appears "ini". The Factory Reset procedure is complete.
Warning! When you execute this procedure, the settings you made will be lost. Be sure you want to erase the memory and return the AdrenaLinn III to its factory default state before continuing with this procedure. Hopefully the article of "How do I reset the Roger Linn Design AdrenaLinn III?" was useful.
Reference: AdrenaLinn III manual