Hard Data Reset a Roland HandSonic HPD-20 Digital Hand Percussion Controller
|
Roland first introduced the Handsonic percussion pad 14 years ago, so it's about time that the flagship model got an update. This came at NAMM 2013, the latest version of this innovative hand percussion instrument features new sounds including loops for tech and dance oriented music, the ability to load own samples up to six minutes in stereo, quick record feature with ability to export to audio, and full USB connectivity for data, audio and MIDI (only had MIDI before).
According to several user reviews, they have praised a Roland HandSonic HPD-20 for the flexible in application; Well made; Convincing sounds; Load your own samples. Also, some users have complained it for No PC-based editor.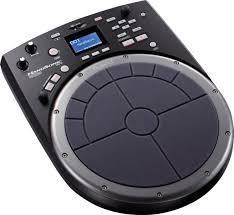 Image source:
rolandus.com
Factory Reset:
To return the Roland HandSonic HPD-20 to its factory-set state, first you should to download the factory settings file in Roland website. The factory settings file can be obtained by click HERE. When you've downloaded the factory settings file, please open/extract the downloaded "hpd20_factory.zip" file on your computer to get the factory settings file in the "hpd20_factory" folder.
Follow these steps below to start restoring all the factory default settings:
Connect the USB memory to the USB connector of your computer.
Copy the extracted "Roland" folder in the above to the root folder of the USB memory.
Disconnect the USB memory from your computer
Turn off the Roland HandSonic HPD-20
Connect your USB flash drive to the HPD-20's USB MEMORY connector.
Turning the power on
Select MENU > SYS > USB Memory > Load Backup
Use the [ – ] and [ + ] buttons to sign a check mark for "With User Inst"
Check that "001 Factory" is selected for "Backup".
Press the F3 button
When a confirmation message appears, Select YES and press the ENTER button.
Warning! This procedure will overwrite all wave and kit data in the HPD-20. So be sure to back up any information you wish to keep. Hopefully the article of "Hard Data Reset a Roland HandSonic HPD-20 Digital Hand Percussion Controller" can help you.
Reference: Roland HandSonic HPD-20 manual