Factory Data Reset Digitech RP70 Guitar Multi Effect Pedal
|
Last Updated on June 20, 2022 by Nick
This is a guitar-multi-effects from Digitech, that was introduced in 2008. Powered by DigiTech's AudioDNA2 DSP processor, the RP70 includes detailed models of boutique stompboxes, amps, cabinets and effects. AudioDNA2 is a proprietary audio ASIC used to provide maximum accuracy in the tone and dynamic response of these RP Series processors. It also has the features tone and effect libraries allowing you to quickly program sounds with ease. With pre-designed combinations of models that are accessible as fast as the user can hit the button, the RP70 are guaranteed to find sounds that fit a multitude of playing styles including some of the most aggressive sounds on the available.
According to several user reviews of Digitech RP70 Guitar Multi Effect Pedal, they have praised it for the compact design; natural sound; good selection of effects; much better than the RP-50 and is good enough to gig with contrary to what the tone snobs say. But they've also complained for the No Batteries Option; poor sound quality.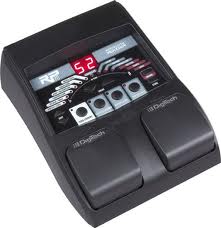 Image source:
astrings.co.uk
Factory Reset:
To restoring the factory settings of Digitech RP70 Guitar Multi Effect Pedal, you must power on while simultaneously holding the Store button. Release the button, when the display appears "FR". Press and hold the Store button again until "RS" appears in the display and release it.
Warning! This procedure will erase all user-programmed data. So be sure to back up any information you wish to keep. Hopefully the article of "Factory Data Reset Digitech RP70 Guitar Multi Effect Pedal" was useful.
Reference : Digitech RP70 Manual