Execute the Factory Set Function in Yamaha CP4 Stage Piano
|
The last Yamaha Stage Piano this writer reviewed was their flagship CP1 back in 2010 and though it had great pianos and EPs onboard, it lacked in a few key areas. Happily, Yamaha has addressed most of these shortcomings with the new CP4, though there's still no pedal on/off resonance as on the Nord Piano 2. With the CP4, Yamaha has returned to the streamlined style of its earlier stage piano models like the CP33. The front panel is easily navigable, with a large, backlit LCD display and a generous array of well-placed sliders and buttons. It's include 88-note Natural Wood Graded Hammer action with 45 voices from Yamaha's premium handcrafted grand pianos, including the CFX, CFIIIS and S6, 47 vintage electric pianos with Virtual Circuit Modeling effects.
According to several user reviews, they have praised a Yamaha CP4 for the spot-on acoustic and electric piano emulations; Excellent additional sounds; 128-voice polyphony; Realistic, graded, real wooden key action; Manual sliders for 5-band EQ; Balanced XLR outs; Records audio to USB drive; Light, portable, and roadworthy. Also, some users have complained it for can't load your own samples; No onboard speakers for practice.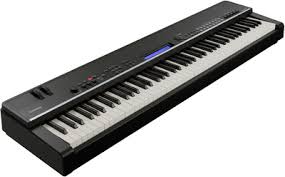 Image source:
thomann.de
Factory Reset:
Press the [UTILITY] button to enter utility menu. Select "07: Job" by using the [∨] button, and then press the [ENTER] button. Next, select "01: FactorySet", and then press the [ENTER] button. Set the "PowerOn Auto" parameter to "off", and then press the [ENTER] button. When the display ask you "Are You Sure?", press the [+1] button to select "YES" and to execute the function. Finally, when the factory reset has been completed, press the [EXIT] button.
Warning! When the Factory Set function is executed, all Performances and Utility settings currently stored in User Memory will be overwritten with their defaults. Before you perform this operation, check whether there is any data you want to keep. This procedure also applies to the Yamaha CP40 unit. Hope fully the article of "Execute the Factory Set Function in Yamaha CP4 Stage Piano" can help you.
Reference: Yamaha CP4 manual