Execute the All Initialize Function in Zoom MS-60B MultiStomps
|
Over the past few years, however, Zoom has won accolades for their portable recorders, their artist signature pedals, and their popular MultiStomp series. Now they've introduced a MultiStomp pedal for bassists: the MS-60B. With the size and weight of a typical single stompbox, the MS-60B includes a thorough lineup of high-quality bass effects types. It features 52 stompbox effects and 6 amp models. The effects are simulated from some very well-known manufacturers, and when placed side by side with the original unit, I could not tell a noticeable difference. Right out of the box, this Zoom processor has 30 presets that are ready to deliver the low end on any stage and 50 user presets, so you can design and save your own sounds. The MS-60B is constructed of metal with an LCD display. It runs on 2 AA batteries for up to 7 hours, or the AD-16 9V adapter.
According to several users reviews of Zoom MS-60B MultiStomps, some users have praised it for the wide range of usable tones; Software and tone updates are available via USB; largely noiseless operation, even with distortions. But some users also have complained fo the Some tones are lackluster and plastic-sounding.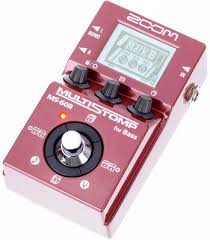 Image source:
thomann.de
Factory Reset:
To restoring the factory settings of Zoom MS-70CDR, first power on while simultaneously press and holding the Parameter 1 (left) knob. When the display appears "All INITIALIZE", press the FOOTSWITCH to start initialization of the program. The Factory Reset procedure is complete.
Warning! Executing the All Initialize function will restore all the settings of the Zoom MS-60B to it's factory settings. Be sure you want to erase the memory and return the Zoom MS-60B to its factory default state before continuing with this procedure. Hopefully the article of "Execute the All Initialize Function in Zoom MS-60B MultiStomps" was useful.
Reference: Zoom MS-60B Manual