Execute a Factory Reset in Elektron Monomachine SFX-60 MKII
|
The Elektron Monomachine is a synthesizer and music sequencer by Elektron. The original (MkI) Monomachine SFX60 (alongside its keyboarded sibling the SFX6) was introduced in 2003. Which is a desktop sound module, and was available as the SFX-6 model, which has a keyboard and a joystick controller. It's been more than four years since Elektron released its SFX 60 Monomachine, the platypus of sound-generating hardware. It's a live performance tool, a pattern sequencer, a loop creator and a MIDI synth module, but somehow it got stuck with the too-narrow classification of "beatbox synthesizer." During the last quarter of 2007 Elektron released the SFX-60 MkII, which is a revision providing higher signal-to-noise ratio, a slimmer design and the ability to add user waveforms, introduced with OS 1.20 in July 2008.
According to several user reviews, they have praised a Elektron Monomachine SFX-60 MKII for the depth of sequencing possibilities; The SID chip emulation; It doesn't sound like anything else. Also, some users have complained it for the tricky to tame; Small screen; Relatively expensive.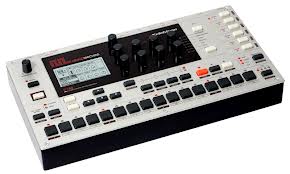 Image source:
soundcloud.com
Factory Reset:
Follow these procedures, to restoring a Elektron Monomachine SFX60+ to it's factory settings:
Power on while simultaneously holding the [FUNCTION] key
Press the third [TRIG] key
Warning! This procedure will restores all patterns, kits, songs and global settings to the factory presets that was preinstalled when the Monomachine originally shipped. This procedure also applies to SFX-6/ SFX-60/ SFX-60 MKII/ SFX-60+ MKII. Be sure that you want to do this. Hopefully the article of "Execute a Factory Reset in Elektron Monomachine SFX-60 MKII" can help you.
Reference: Elektron Monomachine manual