2017 Mercedes Benz E-Class E300 E400 Service Light Reset
|
2017 Mercedes Benz E-Class E300 E400 Service Light Reset – The Mercedes-Benz W213 is an automobile produced by Mercedes-Benz since April 2016. This is the fifth generation of the Mercedes-Benz E-Class since 1993. It was presented in January 2016 at the Detroit Auto Show (including a self-driving concept based on the luxury bus was unveiled at the Frankfurt Motor Show 2015) and takes the style of the latest C-Class and S
The angular surfaces of the current model give way to curvier and more sensual forms. The E-Class will still be presented at the Paris Motor Show 2016. In 2017, following a break declination and a coupe and a convertible version in 2018. No version fighter will even be proposed on the version break which will be the All-Terrain version, like the Audi A6 Allroad.
2017 Mercedes Benz E-Class E300 E400 Service Light Reset:
To reset Maintenance Service Warning Light on 2017 2018 2019 Mercedes Benz E-Class E300 E400, conform to the following instructions:
Close all doors, windows, hood and trunk
Turn the ignition to the position 1 (If your vehicle has a Smart key button, press the "Start" button once without touching the brake pedal)
Get the instrument cluster to the screen where the trip odometer is displayed by using the Navigation Pad on the steering wheel
Press and hold the "Back" button for a second
While holding the "Back" button press and hold the Navigation Pad button.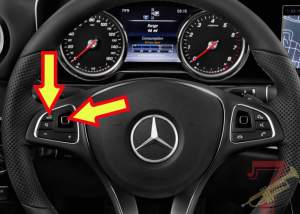 After several seconds the service menu should come up.
Scroll down and select the ASSYST PLUS
Turn the ignition to the ON position without starting the engine
Select FULL SERVICE
Scroll down to select CONFIRM SERV
Select appropriate OIL GRADE being used
Select YES and confirm it
Turn the ignition off and then start the engine to verify the indicator has been reset.
For more details, please watch the following video:
This procedure should applies to the latest generation of Mercedes Benz E-Class E300 E400 (2017 2018 2019 model years). Hopefully, the article of 2017 Mercedes Benz E-Class E300 E400 Service Light Reset can solve your problem. Good Luck! 😀