2016-2018 Infiniti Q50 Maintenance Engine Oil Light Reset
|
2016-2018 Infiniti Q50 Maintenance Engine Oil Light Reset – The Q50 is a mid-size car from Infiniti, which has been produced since spring 2013 as the successor to the Infiniti G37. The vehicle was first presented to the public in early 2013 at the Detroit Auto Show. The Q50 is the first Infiniti to receive the new name from Q and a two-digit number from the beginning of production. For the market launch of the Q50 in the summer of 2013, the entire model range got the new name.
Since October 2016, based on the Q50 Coupe Infiniti Q60 at the dealers. The mid-size sedan is manufactured in Tochigi (Japan). In North America, the Q50 is offered with a 3.7-liter V6 gasoline engine with variable valve timing, which delivers 245 kW (328 hp) and reaches a maximum torque of 365 Nm. For Europe, a 2.2-liter diesel engine from Daimler (OM 651 series) with common-rail injection and 125 kW (170 hp) will be installed.
2016-2018 Infiniti Q50 Maintenance Engine Oil Light Reset:
To turning off the Maintenance Service Due Engine Oil Light on 2016 2017 2018 2019 Infiniti Q50, conform to the following instructions:
Turn the ignition key to position "ON" without starting the engine, If your car has a Smart key button, press the "Start" button twice without touching the brake pedal.
If the Engine Oil Service Due Reminder appears on the display you can reset it by pressing and hold the  button (located on the right side of the steering wheel)
You also can Reset or set the distance for the engine oil and filter interval through Infiniti InTouch system
Press MENU button
Tap APP GARAGE on the screen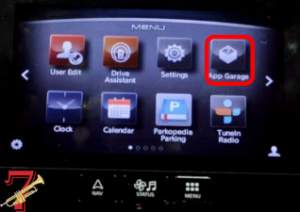 Scroll down and select MAINTENANCE NOTE
Select MAINTENANCE
Select ALL PART
Select ENGINE OIL
On this menu, you can choose RESET or set the distance for service type items
Repeat that step for reset OIL FILTER or TIRES if needed
For more details, please watch the following video:
This procedure should applies to the latest generation of Infiniti Q50 (2016 2017 2018 2019 model years). Hopefully, the article of 2016-2018 Infiniti Q50 Maintenance Engine Oil Light Reset usefull for you. Good Luck!