VW Volkswagen Jetta Inspection Light – Meaning & Resetting
|
Last Updated on July 3, 2022 by Nick
What's up, guys? Jacob here. I'm here with the VW Jetta. Today I'm doing a reset inspection light since I haven't detailed that on this site today I'm going to tell you about the meaning of the inspection light on a VW Volkswagen Jetta.
So what we're trying to do here is we're trying to reset this inspection minder with a bit of a wrench. I did my oil change; make sure to do your oil change first and foremost. It's not just the reset; you do need to do your oil change to have your car appropriately run and function properly. So let's go ahead and get started.
What Does Volkswagen Inspection Due Mean?
Volkswagen vehicles require regular maintenance to keep them running at optimal levels. These inspections include everything from the running gear to the car's body. In addition to detecting defects in the electrical system, they check the air conditioning system and the battery to ensure it's properly charged. Additionally, they contain the tires for cracks, excessive tread wear, and leaks. When the Volkswagen inspection due light comes on, owners should call a dealership to schedule a service appointment.
A Volkswagen inspection due light can be confusing. While the warning light is a reminder to schedule regular service, it doesn't mean anything is wrong. While it might sound like a significant issue, it's usually only a sign that the service interval is nearing its end. The warning light will turn off automatically when the service interval has passed, but if it's past the service interval, it will still display a message that says "Service Now," – which means you should schedule regular service.
VW Jetta A6 Inspection Light Reset Guide (2015-2018)
Please pay close attention, there are 2 ways to reset the inspection light on the Jetta A6. Follow the instructions below according to your vehicle trim level. So let's go for it.
Jetta With Basic Display
Time needed: 3 minutes
In this section, I'm going to show you how to reset the inspection light that you get on the VW Volkswagen Jettas display. So the way you do this is:
Switch OFF the ignition

Close all doors and make sure your vehicle stops in a safe place

Turn ON the Hazard warning light

Next, you have to turn on the hazard lights or emergency lights

Press and hold the 0.0/SET button

There are 2 buttons on the instrument cluster, hold down the right side button


Switch ON the ignition

While holding down the 0.0/SET button, press the START button once without touch the brake pedal

Press the ❏/? button once

Release the 0.0/SET button then immediately press the ❏/? button (left side button) to reset the Inspection

Restart your car

Turn off the ignition and start the engine and verify the indicator has been reset
Jetta With Premium Display
Turn the car ignition off
Turn your hazard lights on
Hold down the 0.0/SET button on the cluster while turning the ignition on
When "Do You Really Want To Reset Inspection?" appears, press the OK button on the steering wheel to confirm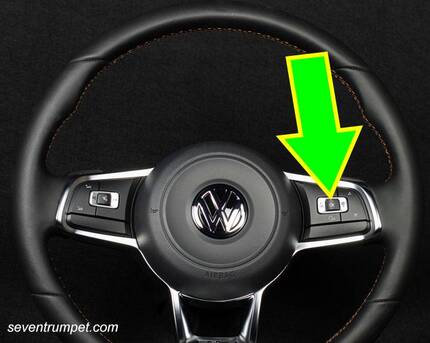 Resetting in Volkswagen Jetta A7 (2019-2023)
In this section, we'll be doing a reset for the inspection light in the Jetta A7. So if you're getting this light I'm gonna share that on the show, you guys. Depending on the model you have, there are 2 ways to do it. So let's see how it's done!
Jetta With Analog Cluster
With the engine off, turn on the Hazard warning light
Next, what I'm gonna do is press and hold the 0.0 button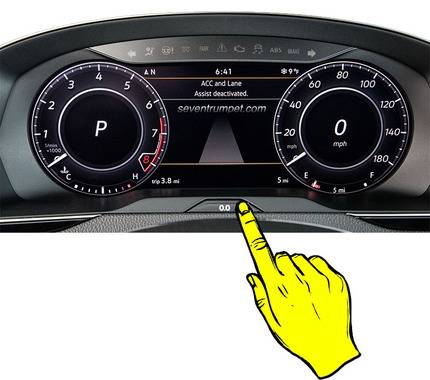 Then we need to turn on the ignition but not start the car
Continue holding the 0.0 button, and you'll see "Reset oil service?". Let it go, then you'll see "Do you really want to reset inspection?"
Release and then press the 0.0 button quickly to confirm
Jetta With Digital Cockpit
Turn on the car
Display the RANGE on the screen by using the ◄ ► navigation buttons on the steering wheel
Press and hold the OK button until the screen changes to the Service Menu
Scroll down and select RESET INSPECTION
Then the system will ask Reset Inspection?, press OK again to confirm
For your info, this operation work for the sixth and seventh generations of the VW Volkswagen Jetta (2015, 2016, 2017, 2018, 2019, 2020, 2021, 2022, and 2023 model years). Also, read how to reset the service light on Jetta.
Volkswagen Jetta Maintenance Schedule
If you've got a Volkswagen Jetta, you've probably heard it needs regular maintenance. These services include tire rotation, wheel alignment, and other vital services. And because your vehicle comes with a 4-year or 50,000-mile limited warranty, you'll probably be able to get the services you need for free. But you might be wondering what you need to do to keep your Jetta in tiptop shape. Fortunately, the following Volkswagen Jetta maintenance schedule will help you make the most of your warranty.
Regular maintenance is essential to keep your Volkswagen Jetta running smoothly for many years. To get started, visit your local VW dealership for a complete Volkswagen Jetta maintenance schedule. The auto service specialists can handle your VW Jetta needs and recommend an oil change, battery replacement, and more. 
Keeping up with routine VW maintenance will help you avoid costly repairs and ensure that your Jetta continues to run smoothly for years to come. Volkswagen Jetta maintenance schedule also lists other essential services your Jetta needs. In addition to oil changes, your Jetta may need tire rotations, brake pad replacement, and other necessary services. You can read more about the recommended service intervals below. When you follow the VW Jetta maintenance schedule, you'll be able to make an informed decision about which service to get and how often to schedule them.
FAQ – VW Jetta Inspection
When should I change the Jetta transmission fluid?
Every 30,000 to 60,000 miles, the transmission fluid should be replenished.
What battery does Jetta use?
The battery pack in the Volkswagen Jetta is either H5 or H7 in size. In general, the CCA ranges from 750 to 860 points, depending on the year and type of the car. 
How much does a VW Jetta battery cost?
You should anticipate spending between $124 and $225 for the battery replacement alone.
So there you have it. Another handy trick that I always use is I always reset the trip odometer after I do the oil change so I know exactly how many miles I have on this engine oil. All right everything's good to go now. So thank you so much for coming along to my site. Until next time, cheers!