Returning the TC Helicon VoiceTone Harmony-G XT to Factory Defaults
|
Last Updated on June 20, 2022 by Nick
VoiceTone Harmony-G XT is a vocal effects unit designed with guitar-playing singers in mind; with improved harmony technology and reverb compared to its big brother VoiceLive 2, Harmony-G XT will improve your tone and surround your voice with pro effects and vocal harmony. Harmony-G XT analyzes the voice and guitar input to produce musically correct, tight harmonies as well as intelligently mixing effects, EQ, dynamics, and levels. With intelligent arrangement of 2-harmony voices based on guitar and voice input, Harmony-G XT is an essential tool for singing guitarists. TC-Helicon have also wisely added a USB interface to the XT to enable software updates as well as backing up your presets.
According to several user reviews of the TC Helicon VoiceTone Harmony-G XT, some users have praised it for the dedicated footswitch for harmony switching; two different patches instantly footswitchable; the harmonies are so clean and natural, very little loss of overtones. Also, some users have complained it for the setting the key manually requires a lot of footswitching activity; no editable parameters for the onboard reverbs and effects.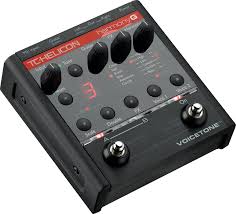 Image source:
dannychesnut.com
Factory Reset:
To restoring the factory settings of TC Helicon VoiceTone Harmony-G XT, you must power on while simultaneously holding the MANUAL and VOICE 2 buttons. The Factory Reset procedure is complete.
Warning! This procedure will return all of the settings to the values when the GT-PRO was shipped from the factory. Be sure that you want to do this. Hopefully the article of "Returning the TC Helicon VoiceTone Harmony-G XT to Factory Defaults" was useful.
Reference: VoiceTone Harmony-G XT Manual